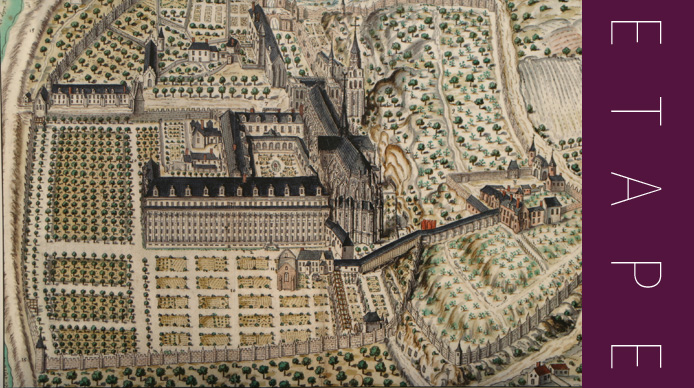 Of Gallo-roman origin, it is as early as the fourth century that this town situated on the Loire River really takes off.
The prestige of Saint Martin, Bishop of Tours glows throughout western Christianity. Pilgrims flock from all over Europe to go to Châteauneuf de Saint Martin, a mighty construction erected in honour of the saint.
Fame and commerce were assured to this town. Louis XI, Charles VIII and Francois I had a soft spot for Tours and happily stayed in its château.
In the nineteenth century, the intendant to the court Pierre de Cluzel designed the new town as it is today – perpendicular to the Loire.
Saint Martin Chateauneuf vineyards
The vines at Châteauneuf de Saint Martin in Marmoutier. Originally from Pannonia in Hungary, Saint Martin was in the Roman Legion before converting and becoming first Bishop of Tours. He brought from his country the very first chenin plant and was thus at the origin of the Loire valley's vineyards. In the fourth century, Saint Martin was a highly solicited super star. He would hide in a cave on the hillsides of Vouvray in Marmoutier, some distance from Tours, so that he could meditate.
The Abbey of Marmoutier was erected after his death in 397. Archaeological digs in the grounds show amazing remains of the Gothic Benedictine church from the twelfth century, which was 127 metres long and as famous as Cluny. From the tower, Urban II would preach in favour of the Crusades. Leonardo da Vinci's body lays at rest in the Basilica Saint Martin in Tours. The Tours Tourist Office proposes an fascinating guided visit . The Vigneau Chevreau estate still grows a vine on the hill top and develops a Saint Martin vintage at the Clos de Rougemont.
The Château Royal de Tours – former residence of the kings of France.
Saint Martin Museum - life and history of Saint Martin, 3 rue Rapin. Tel.: +33 2 47 64 48 87
The C C C – Centre for modern art – an amazing 600 square metres site to honour the latest creations of avant-garde artists. 53-55 Rue Marcel Tribut, Tel.: +33 2 47 66 50 00
L'Atelier d'Offard. The workshop created by Francois Xavier Richard, makes unique wall paper, stencilled and stamped block printed. Modern creations and re-editions are carried out by real artists using ancestral techniques. An exceptional place that works with the very best shops and also in castle restoration. www.atelierdoffard.com
The craftsmen and antique dealers' quarter. A huge bric-a-brac sale takes place every fourth Sunday. Bd Béranger
The Maison des Vins de Loire - a must visit to discover the vineyards and their wine – over 70 different varieties to taste and to buy. 25 rue du Grand Marché. Tel.: +33 2 47 60 55 21

A starred restaurant, that of Olivier Arlot, a magic couple together with his chief sommelier David Fontaine, this is the gastronomic place in town; 33 rue Colbert. Tel.: +33 2 47 66 33 08
A bistro – L'Arôme – Local fare and wines by the glass at reasonable prices in a relaxed, friendly atmosphere. 22, rue Colbert. Tel.: +33 2 47 05 99 81