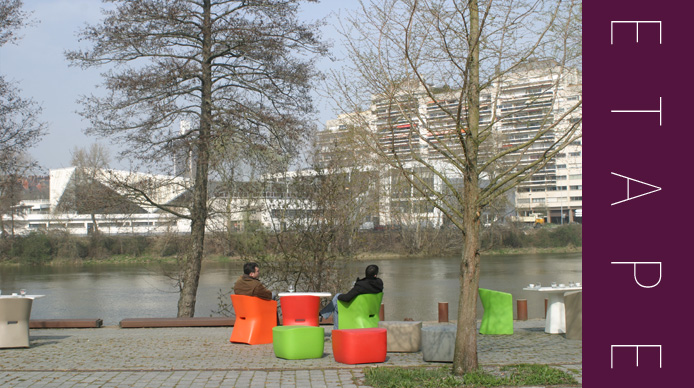 "In the prisons of Nantes, there was a prisoner…" . So goes the song – a chorus sung last century. If Nantes were a prison today, it would be golden for such is the dynamism of this town. Life is beautiful in the Duchess Anne of Brittany's home town – she was twice Queen of France once with Charles VIII and once with Louis XII.
The Château des Ducs de Bretagne. Built at the turn of the fifteenth century and influenced by the beginning of the Italian Renaissance, this château became the residence of the Kings of France from the sixteenth to the seventeenth centuries, then it became a military academy and later a prison. Completely restored, it was opened to the public in 2007.
The Nantes History Museum. Modern museum craft orchestrated by the architect, Jean Francois Bodin, unfolds throughout 32 rooms of the former Duke's residence. Exhibitions under such themes as "Nantes and its History" or "Trade and Black Gold in the eighteenth century" enchant the visitor who winds up in a space dedicated to the artistic creation of Pierrick Sorin, a video artist from Nantes, who revisits its history – altogether fascinating! www.chateau-nantes.fr
The flamboyant Gothic Cathedral of Saint Peter and Saint Paul, where the tombs of Francois II and Anne of Brittany are to be found.
The "Machineries de L'île". Totally unique! Extraordinary machines and animated mechanical structures straight out of Jules Verne and Leonardo da Vinci's imaginary worlds. They are made, kept and come alive in the naves of the former shipyards. A grand elephant, nautilus, devilfish, sea snakes, and a sea monster, all of which are magnificent dream fantasies conceived by two genuises Francois Delarozière and Pierre Orefice – a show for big and small! www.lesmachines-nantes.fr

La Cigale, an institution. This late nineteenth century brasserie has remained in the Art Nouveau style and what a success. La Cigale's modernity means it will never go out of fashion. Classified Historical Monument, with its colours refreshed, La Cigale offers, under its painted ceilings, dishes so simply enunciated, yet making you salivate as would a star wearing Calais lace under a woollen dress. 4, place Graslin. Tel.: +33 2 51 84 94 94
L'Epicerie du Maréchal. To be understood as the Marshall of Cambronne, a native of Nantes. Near the cathedral, it rings well – it is a bistro wine bar. 3 rue du maréchal Joffre. Tel.: +33 2 40 89 79 83
The Market, the oldest in Nantes, founded in 1937 so yet another institution! People from Nantes stock up here on local produce from small holders including fish and shell fish from the Loire Atlantic. A lively place. Open every day except Monday Place Talensac.
La Galerie Regnier. Glass domed gallery dating from the last century with smart shops. It was used as scenery for the film Lola starring Anouck Aimée, produced by Jacques Demy.
Rue Kervegan. for the facades of its thirteenth century buildings, which once belonged to the rich ship owners.
La Cantine aux Bouteilles. A wine bar. Rue Armand Boissard. Tel.: +33 2 40 12 10 38
Les Rigolettes Nantaises, a sweet shop dating from 1902, which still produces all the sweet specialties from Nantes. 18 rue de Verdun. Tel.: +33 2 40 47 58 31
La Civelle. To lunch here one needs to take the motor launch towards Trentemoult. The ten minute crossing of the Loire is a great escape and one passes in front of Jules Verne's house overlooking the river bank before landing on the left hand bank of the estuary in an old fishing village where you can see "cap-horniers", boats that have sailed round Cape Horn. It is frequented by artists and very much in vogue. The extremely colourful village was used as scenery in Jean Loup Hubert's film La Reine Blanche (The White Queen) starring Catherine Deneuve. At the tip, a piece by Roman named the Pendulum, which marks the incessant rhythm of the busy river. Tel.: +33 2 40 75 46 60. www.la-civelle.com