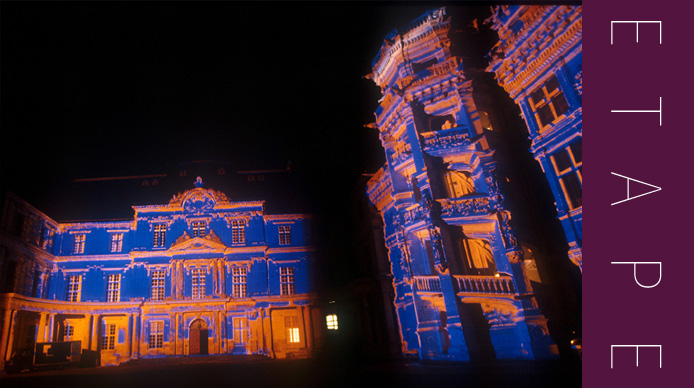 Château de Blois, son et lumière

A royal town, it was the destination for the Kings of France and their courts in the sixteenth century.
The Château Royal is a fine example of the different architectural styles from the fifteenth to the seventeenth century, for instance the famous state staircase built by François Ist. Horse-drawn guided tours depart from the château.
Must see: "Ainsi Blois vous est conté", the history of France retold through a sound and light show, the only one of its kind in Europe. www.chateaudeblois.fr
A remarkable garden La Roseraie, Place Saint Louis.

The Museum of Objects, one hundred pieces of contemporary art signed by Dali, Christo, Arman. www.museedelobjet.org
The Poulain Chocolate Factory. Founded in the nineteenth century and revisited by the architect Jean Nouvel, 2, rue Garbotière Villebarou. Tel.: +33 2 54 44 47 00
The Maison du Vin. Ideally located, near the Royal Castle, this house displays all kind of wine with appellations of the Loir-et-Cher: AOC Touraine, Touraine-Mesland, Cheverny, Cour-Cheverny, Coteaux du Vendome, Valencay and Crémant de Loire. 11 Castle Square. Tel.: 02 54 74 76 66, 11 place du Château. Tel.: +33 2 54 74 76 66
The "Rendez-vous des Pêcheurs", a Michelin badge, Christophe Cosmes is very talented when it comes to preparing fish from the Loire with fine and interesting flavours. 27 rue du Foix. Tel.: +33 2 54 74 67 48.
Les Banquettes Rouges, a small and friendly eatery with a slate menu. 16, rue des Trois Marchands. Tel.: +33 2 54 78 74 92
The Embarcadère. Positioned on the Loire, a regional brasserie open all day, serving fried smelt with a small glass of white wine, 16 quai Ulysse Bernard. Tel.: +33 2 54 78 31 41.