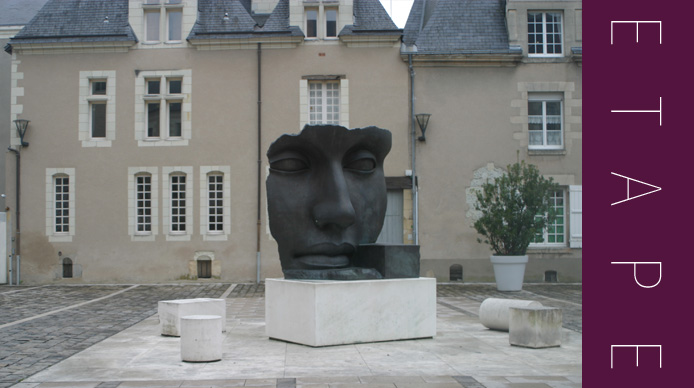 The capital of Anjou is a seductress with its blue slate roofs in unison with its green gardens. The good King René marks its history and dynamic modern museums and institutions bring it into the present. An ideal stop over to fill oneself with the sights and to drink, in moderation, the local sweet wines.
King René's City. Angers castle was built in 1232 according to Blanche de Castille's wish, the mother of Saint Louis. The battlements measuring one kilometre in circumference are supported by 17 towers and surrounded by a dry moat, all of which gives the feeling of a fortress. The fifteenth century Gothic chapel was built according to Louis II and Isabelle of Aragon's wishes. Their son, the future Réné d'Anjou was an enlightened prince, fond of both the arts and the earth and remains embedded in the heart of Anjou people today as he left his mark on the town.
The Apocalypse Tapistries
The jewel of Angers Castle. Hung in an immense gallery, this medieval woven work is unique in the world, not only in size but in its quality design. It was ordered circa 1375 by Louis I, Duke of Anjou. It was displayed on religious festivals and formal occasions. Restored in the nineteenth century, it was returned to the Château of Anger in 1954 to be displayed to the admiring public. It is 103 metres long and 4.5 metres high and made up of 71 pictures. It represents St John's vision from the New Testament and illustrates the historical, social and political context of fourteenth century France. www.angers.monuments-nationaux.fr
Le Chant du Monde by Jean Lurçat. In Angers, tapestry is King! Both in the past and present. The "Chant du Monde" by Jean Lurçat was woven in Aubusson and has been on display since 1967 in the former sick room of St. John's hospital. A committed answer and homage to the Apocalypse tapestry it is formed of ten parts relating human destiny from Hiroshima to conquest of Space. www.musees.angers.fr
Le Carré Cointreau. In the Cointreau museum, it is not wine but liquor, which is toasted. Just as Lu biscuits, Cointreau, this syrupy orange peel flavoured drink, has inspired artists and consumers alike. The visit of the factory is a journey into the history of the brand through a collection of posters and authentic items. www.cointreau.com

La Maison du Vin. To discover AOC Anjou and Saumur vineyards and to taste their wine. 5 bis place Kennedy. www.vinsdeloire.fr
Rue Toussaint is the antiques street.
Mets et Vins Plaisir. A cellar, a wine bar and a restaurant – this trilogy enables one to eat local dishes in a simple modern setting whilst tasting wines selected by a young and knowledgeable wine waiter. 44 bd Ayrault. Tel.: +33 2 41 87 03 35