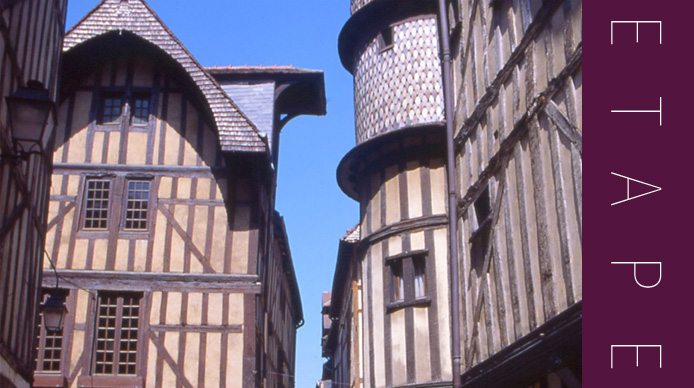 It is historically known for its successful cloth trade in the Middle Ages. Troyes still holds architectural treasures dating from the Middle Ages to the 19th century: a great encounter.
Ten classified churches including Saint Pierre and Saint Paul Cathedral which reveals the renowned glass-making artists' great works.
We suggest you stroll around the narrow streets and alleys of the old town to discover the magnificent timbered houses and mansions.
You will come accross the little «Jardin des Innocents» as your steps will take you to La Madeleine Church whose 16th century gothic gallery and stained-glass windows are splendid.

Le Valentino, owned by Claudine and Gilbert André and located in the heart of the medieval town for a tasty and contemporary cuisine. An excellent selection of the freshest fish. 35 rue Paillot-de-Montabert. Tel.: 03 25 73 14 14
Aux Crieurs de Vin: accross from the street market, it is the favorite place to many for a quick lunch with good wines in a friendly atmosphere. 6-4 place Jean Jaurès.
Tel.: 03 25 40 01 01
Au Jardin Gourmand: for the authentic chitterlings sausage lovers. 31 rue Paillot-de-Montabert
L'andouillette, Chitterlings Sausage Controlled Origin Appellation, AAA Quality Label; at Thierry Pautois' in Troyes and At Christophe Thierry's in Sainte Savine