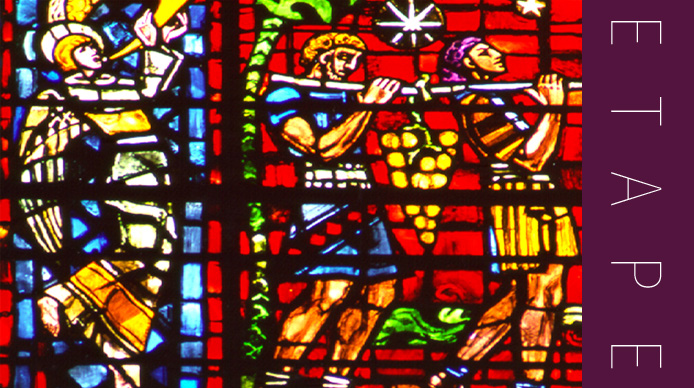 Do not look for vineyards in Reims itself, they are all located a little further on the hills. This is the sacred stronghold of the greatest champagnes whose large and deep calcarous cellars date back to the gallo-roman era. Renowned and prestigious wine makers representing a luxurious showcase for the "Haute-Couture" champagne. Hundreds of kilometers of cellars lye beneath the town and bottles by the millions are counted; a real treasure hidden Under Reims' cobblestones!
A touch of Culture Arts and History have always been at the center of Reims' culture. Between the reigns of Clovis and Charles Xth, 33 kings of France were crowned and 4 sites were classified UNESCO World Heritage. With its famous  "Ange au Sourire" statue, known as the French gothic art jewel, Notre Dame Cathedral was recognized worldwide, but the Roman Art is majestically present with the Saint Remi Basilica as well. At the Villa Demoiselle, you may also take your time admiring the top of the Art Nouveau style while enjoying a glass of the excellent Demoiselle de Vranken Vintage. Don't miss the tiny Foujita Chapel hidden behind the Mumm House, as well as the Palais du Tau, the ancient archbishops' residence, now a museum dedicating an entire room to Charles Xth crown.
Ruinart : legendary
One of the oldest Champagne Trading House, founded in 1729, with its limestone caves listed in the French National Heritage Registrar, all carved into stone and stricken by the golden light, represent a precious case to be visited with due respect.www.ruinart.com
Veuve Clicquot Ponsardin : an institution (LVMH Group)
At the very bottom of the limestone caves, the sparkling and innovating spirit of the champagne's First Lady offers a very special atmosphere. Different types of tours are available and the very chic gift shop displays a great variety of flasks and gifts on the champagne theme. www.veuve-clicquot.com
Taittinger : a collector
Each year, this great Champagne Trading House produces a bottle especially decorated by a famous artist such as Corneille, Arman, Zao Wou Ki … aficionados never miss the "Taittinger Collection". www.taittinger.com
Mumm: Cordon Rouge.
"The best and nothing but the Best" has always been its motto. A choice of three types of tours and champagne tasting are offered to the visitors. www.mumm.com
Lanson: champagne nobleness since 1760. www.lanson.fr

Le Café du Palais: the city's renowned Café hosted by the Vogt family since 1930. You will enjoy a nice jazzy atmosphere in the Simon Marq elegant glass roof dining room. The menu includes local specialties, chitterlings sausage, chicken casserole with vegetables. Jean-Louis will be happy to help you select a regional label wine or small champagne producers. A pleasant experience. 14 place Myron Herrick. Tel.: +33 (0)3 26 47 52 54 www.cafedupalais.fr
Le Millénaire: for a starred dinner, one Michelin Macaron, Chef Laurent Laplace along with his assistant Chef Frederik Dupont offers a very inventive menu with daily fresh produce from the market. Budget menu available on weekdays. 6 rue Bertin. Tel.: +33 (0)3 26 08 26 62 www.lemillenaire.com
Le Bar des Crayères: this Relais & Chateaux bar offers a very elegant selection of wonderful champagnes. It is an exquisite experience to enjoy a Gosset, Drappier or a Billecart-Salmon champagne in this sophisticated environment.
Le Jardin des Crayères: in the park, the chic and bucolic outbuilding of the gastronomic restaurant; more accessible, with plat du jour and champagne by the glass. 64 bd Henry Vasnier. Tel.: +33(0)3 26 82 80 80 www.lescrayeres.com
Two Region specialties: the biscuits roses and the «nonnettes » gingerbread, a special since Henri IV. You can find them at Maison Fossier, an institution in town. 20 rue Maurice Prévoteau. www.fossier.fr
The chocolates from Maison Deleans. 20 rue de Ceres. www.deleans.fr