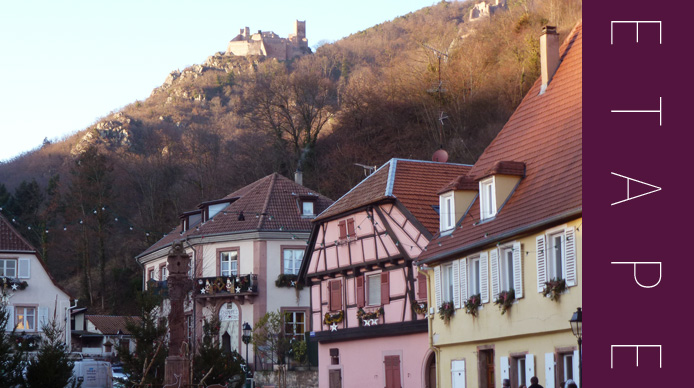 Three grands crus form a belt round the town, the Geisberg, Kirchberg and Osterberg and three castles crown it. The Seigneurs de Ribauderie castles dating from the XIth and XIIth centuries form a magnificent feudal ensemble, unique in the Alsace.
A very charming medieval village, with a renowned and highly popular Christmas market. In a fairytale setting, the town is magical and children love it. Medieval Christmas markets: first and second week-ends in December.
The half-timbered houses, dating back to the Middle-Ages, painted red, blue or green, and the Renaissance house line the High Street. The village is an open roofed museum with over 30 sites of interest. Wondering the alleys, you'll stumble across pastry shops, clock towers, turrets and fountains. Toy shops, pretzel sellers and winstubs are all over the town as well. Everything you need to wander the street and let yourself be carried by your whims.
Museum of Vine and viticulture. A private museum located in a wine cellar that alludes to the works of winegrowers in the Alsace, from the grafting of the vine plants to the bottling stage. Cave de Ribeauvillé. 2, route de Colmar. Tel.: +33 3 89 73 20 35. www.vins-ribeauville.com

La Grangelière. Christophe Cavelier, former Michelin starred chef from the Valet de Cœur restaurant, set his restaurant up in the quaint setting of a typical Alsace farm. His five meat organic choucroute along with his fish version are always on the menu. The reasonably priced 'Menu Tradition' with starter, main and desert will satisfy even the greatest appetites. 59 Rue du Rempart Sud. Tel.: +33 3 89 23 00 30.
Le Valet de Cœur. Just a few kilometres outside Ribeauvillé, you'll find gastronomy in the middle of the forest. The menu, all fish, accompanied by a Riesling Grand Cru from the Faller estate is an excellent choice. 48, route de Sainte Marie aux Mines. Tel.: +33 3 89 73 64 14.
Winstub La Flammerie. Will you still have space for a dessert after a dish of Alsace pasta à la forestière with snails and mushrooms? Their recipe for grandma's vacherin is excellent. The little pots of red fruits with pinot noir and strawberry and rhubarb sorbet are just as tempting. Each dish Florence and Sophie present is generous. Their compositions are full of colours and flavours. A warmly recommended Winstub. Grand'Rue. Tel.: +33 3 89 73 61 08.
Winstub Zum Pfifferhus. A name that the laypeople will find difficult to present but don't be put off as the food is worth the effort. Grand'Rue. Tel.: +33 3 89 73 62 28.
La Maison Siedel. The tall half-timbered house, painted oxblood red, is one of the most attractive ones on the High Street contains one of the best butcher shops in the county.
Atelier Christ. Childhood keepsakes, toys we love, handmade in wood by European craftsmen. Grand'Rue.
Gilg. One of the master pastry chefs and chocolatiers in the Alsace. In a contemporary setting, you can rejoice in any of the traditional Alsace sweets that lay before your eyes. Black Forest gateau, Marronnier, Saint Honoré, ice creams and chocolates beautifully presented fill your eyes with envy. Who could resist! Tel.: +33 3 8 9 49 74 53 www.patisserie-gilg.com
Tissus Beauvillé. A treasure trove of fabrics and linens, with delicate and shimmery prints… The factory's shop has all the latest creations on display in the great tradition of the beautiful Alsace linen. Tel.: +33 3 89 73 74 www.beauville.com