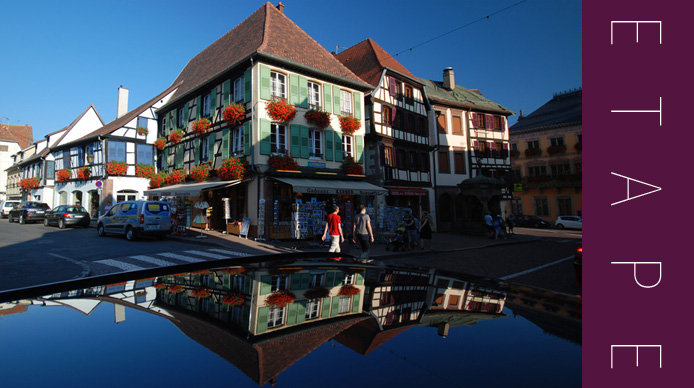 Under the ownership of the Dukes of Alsace, the town was later part of the Hohenbourg monastery founded by Saint Odile. Obernai wine would be found in Imperial courts and monasteries alike. As early as 788, the German abbeys of Fulda and Saint Gall in Switzerland had vines on the hillsides of Obernai. The architecture bears the hallmark of the Renaissance. The chapel tower, the fortifications, the old corn market, and the six buckets well are signs of the strategic importance and great wealth in trading in Obernai in the Middle-Ages.

La Fourchette des Ducs. A mythical place and the celebrity hangout in the early 20s, where the carmaker Ettore Bugatti, René Lalique, the renowned inlayer Charles Spindler and Lucien Weissemburger of the Clos Saint Odile wine estate would meet. The restaurant with its Art Deco setting in precious woods and crystal holds two Michelin stars. Nicolas Stamm serves dreamlike food in each plate at La Fourchette. Open in the evenings from Tuesday to Saturday and Sunday lunchtime, bookings only. 6 rue de la Gare. Tel.: +33 3 88 48 33 38.
La Cour d'Alsace. Located in Obernai's medieval town centre, in XVIIth century buildings, La Cour d'Alsace is a lovely stop on the wine route. A gastronomic restaurant with a Winstub and a relaxation area with pool and garden at the foot of the fortifications.  Tel.: 03 88 95 07 00.
Winstub at La Cour d'Alsace. The meaning of the word «win stub» is thought to derive from the custom of winemakers having their friends round to their kitchen for supper and to drink their wine. Somewhere simple, friendly and homely. The tradition lives on in the smaller and larger establishments with the bonus of being quite cosy, with exposed woodwork and nicely decorated. A great place to come with friends to enjoy a flammenkuche or a choucroute accompanied with wines from the Alsace. It's certainly the case at La Cour d'Alsace. 3 rue de Gail. Tel.: +33 3 88 95 07 00. www.cour-alsace.com