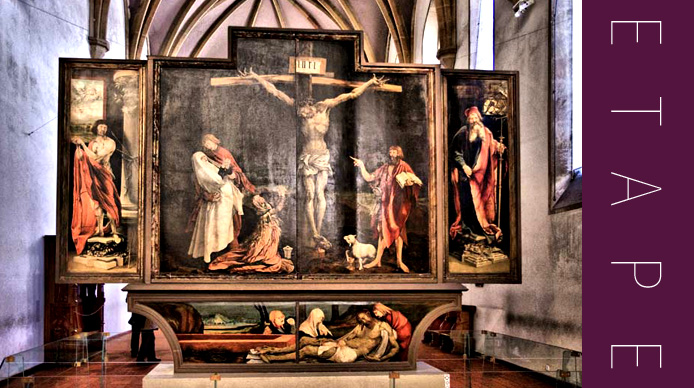 The town is first mentioned in 823 in a charter from Louis the Pious. Colmar was granted its independence by Rodolphe Ist Habsburg in 1278. After the 30 year war, the town is placed under the protectorate of France before becoming part of in 1679. Colmar, capital of the Alsace wines sits at a crossroads of trails and cultures, displaying a quiet serenity.
Split into two by the Lauch River, it is often compared to a small Venice. Along the quai de la Poissonnerie, in the tanning district, you just need to look up to travel back in time. The XVIth century Pfister house, the old customs house from the XIVth and XVth centuries, the church of the Dominicans, a gothic architecture masterpiece from the XIIIth century…
Unterlinden museum
Located in a former Dominican convent from the XIIth century, contains, amongst many others, a remarkable piece of art, the Issenheim altarpiece painted by Matthias Grünewald towards 1515. Other major pieces to admire include works by Lucas Cranach, Martin Schongauer. Monet, Poliakoff, or Picasso. The contemporary pieces are displayed on the same level as the archaeology department. 1 rue d'Unterlinden, 68000 Colmar -France. Tel: +33 3 89 20 15 58. www.musée-unterlinden.com
Bartholdi Museum. The great sculptor Auguste Bartholdi, father of the Statue of Liberty, was born in Colmar in 1834. His native home has been turned into a museum that relays his trajectory over several floors through a rich collection of his works, drawings and statuary pieces. 30 rue des Marchands. Tel.: +33 3 89 41 90 60

Karcher Estate. A winegrower in the centre of town and a cellar that dates from 1602, which showcases wines and crémants from the Alsace. 11 rue de l'Ours. www.vins-karcher.com
L'Atelier du Peintre. Loïc Lefebvre, a star who pleases us with his new cuisine, simply divine. Each of his culinary compositions resembles a painting by Andy Warhol, colourful, innovative and deliciously tasty. Celebrated by the food critics since its opening in 2007, the Atelier du Peintre was named best restaurant of the year. Don't miss it. Tel.: +33 3 89 29 51 57.  www.atelier-peintre.fr Tel.: 03 89 29 51 57
Jean-Yves Schillinger's restaurant. The house on the water is discrete, hardly signposted but well known in gastronomic circles that are fond of Michelin starred tables.
Le Restaurant des Têtes. The 106 grinning faces that dress the facade of this XVIIth century Renaissance building are remarkable. Classified historical monument, it is hard to walk by this temple of gastronomy, highly liked by foreign patrons, without stopping.
La Petite Venise. Located in the old tanning quarter, this charming little Winstub's specialty is the veal shank with horseradish sauce and potatoes. Juicy, crusty, the dish is so tasty. The foie gras from Massé with a glass of Muscat d'Alsace from Heyberger's is sumptuous. 4 rue de la Poissonnerie Tel.: +33 3 89 41 72 5 www.restaurantpetitevenise.com
Gaffard Guy. A true antiques shop where you can find Art Deco ceramics and pottery pieces that are highly sought after and signed Léon Elchinger, from the Atelier d'Art in Soufflenheim. 56 Rue des Marchands. Tel.: +33 3 89 41 31 78.
Lire et Chiner. Opposite the Atelier du Peintre, this maze-like bookshop is open on Sundays. Everything for you to enjoy a moment of culture amongst cartoons and art books. 36 rue des Marchands. Tel.: + 33 3 89 24 16 78. www.lire-et-chiner.fr
Le Quatorze. At 14 rue des Augustins, the Quatorze, is a small boutique hotel with a charming hostess, Catherine Devriendt. Catherine has transformed a former chemist's shop with an interior courtyard in a place full of poetry and allusions. Cosy, intimate and contemporary, an extraordinary place to stay for timeless travellers. 14 rue des Augustins. Tel.: +33 3 89 20 45 20. www.hotelquatorze.com