This itinerary takes us from the north of Sonoma County into the Napa Valley. The northern end of the Napa Valley, passing through the towns of Calistoga and St Helena, is far less crowded than the southern end around Napa itself. The north is rewarding for those looking for scenic travels and great wineries.
Alexander Valley
One of the warmest appellations in Sonoma County, this area produces some of the county's richest Cabernet Sauvignon, along with flavourful, ripe Chardonnay. You will also find some complex and concentrated Zinfandel, Merlot and Syrah.
Jimtown Store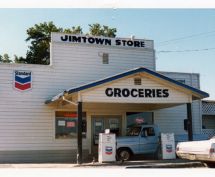 The Jimtown Store is just east of Healdsburg on State 128 and is an ideal stop to pick up a picnic before continuing on this itinerary. Jimtown has been a landmark since 1895, when Jim Patrick founded it to serve as the general store, post office and meeting place for the valley. In 1989, the late John Werner and his wife Carrie Brown bought the store and restored it to its former glory – and added some twists of their own. The wine on offer includes Jimtown Wine, a collaboration with the neighbouring Hawkes Vineyards. There's homemade and local foods, old fashioned toys and candy, homewares and gifts, and the store is decorated with vintage collectibles and antiques – a celebration of Americana. Jimtown continues to be a community store for the 21st century – part cafe, part information centre for locals and travellers alike. It's definitely worth a visit to pick up some souvenirs, and get a picnic or sit and have a coffee or lunch. 6706 Highway 128. www.jimtown.com
Medlock Ames. The Tasting Room is a sympathetic restoration of the 100 year old Alexander Valley Bar & Store. The design is industrial and urban, without compromising the heritage. It's surrounded by vineyard views, and has an acre of garden complete with olive trees. Visitors can taste flights of wine and canapés of seasonal produce showcasing the vineyard and farm, and using produce from the market garden where possible. In the evening the Speakeasy-style bar is open. 3487 Alexander Valley Road. www.medlockames.com
Hanna Winery. The Mediterranean-style tasting room sits atop a knoll overlooking the Alexander Valley and the "Red Ranch" vineyard, home to the flagship Cabernet and Merlot. The wrap around veranda is the perfect place to enjoy the stunning view while sipping award-winning wines. Today the Hanna family has around 600 acres split between vineyards in the Russian River appellation, the Alexander Valley and the Bismark Mountain Ranch high up in the Mayacamas Mountains. Open daily 10-4. 9280 Highway 128. www.hannawinery.com
Calistoga AVA
Jax Vineyards. A family run boutique winery. Siblings Kimberly and Trent Jackson pay homage to their agricultural heritage by using premium grapes and world-renowned winemakers to create cult status wines, all while embracing a very chic, young, and urban image. 3468 Highway 128. www.jaxvineyards.com
Bennett Lane. At the northern pinnacle of the Napa Valley, where the Vaca mountain range meets the Mayacamas range, Bennett Lane Winery sits snugly at the edge of its Cabernet Sauvignon vineyards. Knowledgeable staff are happy to lead guests through the vineyard and cellar, before trying the award winning wines in the tasting room. The tasting room even features iPads with a custom tasting app. Maximus, a no-nonsense red wine varietal blend of Cabernet Sauvignon, Merlot and Syrah leads the way. 3340 Highway 128. www.bennettlane.com
Summers Estate Winery. Few wineries make a Charbono these days, and this is one of them. They also produce a great Petite Sirah. There are lovely views, a Bocce court, and a picnic area for guests. 1171 Tubbs Lane. www.summerswinery.com
Chateau Montelena. One of the most peaceful settings in the Napa Valley, a stone castle carved into a hillside overlooking gardens, lake and vineyards – reaching out to the base of Mount St.Helena. Chateau Montelena's tradition of excellence started in 1882, and came into international recognition with the Paris Tasting in 1976, and continues today with its handcrafted world-class Chardonnay and Cabernet Sauvignon. The 1973 Chardonnay was judged first above all of the French White Burgundies. 1429 Tubbs Lane, Calistoga. www.montelena.com

Zahtila Vineyards
. Owned by Laura Zahtila Swanton, a long-time wine enthusiast who purchased the vineyards in 1999. Zahtila specialises in limited-production, premium red wines. Laura has managed all winemaking processes from grape sourcing to the logistics of launching and operating a winery. Zahtila Vineyards make robust Cabernet Sauvignon and Zinfandel, and a refreshingly fruit-forward Chardonnay. 2250 Lake County Highway.
www.zahtilavineyards.com
Paoletti Estates Winery. An old chateau, but built with state of the art technology. Art is everywhere – in the caves, chapel, art gallery, bell tower, even in the winery. By appointment. 4501 Silverado Trail. www.paolettivineyards.com


Clos Pegase
. Housed in an award-winning Postmodern structure, this winery features an extensive collection of modern art, including a Henry Moore sculpture of Gaia. Wine includes Cabernet, Merlot and Petite Syrah port. Open daily, self-guided or guided tours available. 1060 Dunaweal Lane, Tel.: +1 707 942 4981.
www.clospegase.com
Sterling Vineyard. These whitewashed buildings perched on top of a mountain can be seen for miles around. The self-guided tour is well marked. Noted wines include Cabernet Sauvignon. 1111 Dunaweal Lane. www.sterlingvineyards.com
Schramsberg Vineyards. The first winery established on the hillsides of the Napa Valley was founded in 1862 by Jacob Schram, a German immigrant. Historic underground caves were hand dug by Chinese labourers. Schramsberg was re-established in 1965 by Jack and Jamie Davies as a producer of premium methode champenoise sparkling wines. Son, Hugh Davies, is now president of the winery and directs winemaking. Seven vintage-dated and two multi-vintage sparklers are produced each year. All Schramsberg sparkling wines are aged at least two, and in special releases six years or more, in the one mile of underground caves located on the winery property. The winery is a certified Napa Green winery, and is home of a 466,806 kilowatt-hours solar array. By appointment. 1400 Schramsberg Road, Calistoga.  www.schramsberg.com
Calistoga
Founded in the 1860s, Calistoga is famous for its hot springs, and at the more noticeable exit areas, such as the geyser just north of the town, water and steam shoots out of the ground at 350 degrees Fahrenheit. For centuries, people have made pilgrimages to the natural hot springs and mud baths in the area, seaking the curative properties of heated water, minerals and mud. Much of the mud in the area is infused with volcanic ash, said to be particularly effective in pulling toxins from the body. Today, more than two dozen spas and hot spring resorts dot the landscape around Calistoga.
Lincoln Avenue is Calistoga's main street, full of family-owned businesses such as art galleries, boutiques, wine shops and restaurants.
Old Faithful Geyser. One of only three known geysers in the world that erupts with near-perfect regularity – every 40 minutes it spews boiling water 18 metres into the air. 1299 Tubbs Lane. www.oldfaithfulgeyser.com
Petrified Forest. Geologists call this attraction one of the finest examples of a Pliocene fossil forest in the world. The park is privately owned and has been since its first proprietor started
excavating the large petrified trees in 1871. The author Robert Louis Stevenson even wrote
about it in his book Silverado Squatters. 4100 Petrified Forest Road
Sharpsteen Museum. In addition to its many historical exhibits, the Museum uses dioramas to depict Calistoga during its period as the elegant 1860s Hot Springs resort. The Museum, a project of Ben Sharpsteen, an Academy Award-winning animator, producer and director for Walt Disney Studios, also includes Disney memorabilia including one of his Oscars, and antique vehicles. 1311 Washington Street.

Brannan's Grill. An award winning wine list featuring rare selections from Napa Valley wineries as well as Sonoma County. . Fresh seasonal sandwiches, oysters, salads, grill. 1374 Lincoln Ave. Tel.: +1 707 942 2233. www.brannansgrill.com
JoLe. Contemporary American restaurant owned and operated by husband-and-wife team Matt and Sonji Spector – chef and pastry chef respectively. Using organic, local ingredients as much as possible. The eclectic wine list consists of many of the area's boutique producers. 1457 Lincoln Ave.Tel.: +1 707 942 5938. www.jolerestaurant.com
Between Calistoga and St. Helena
Stony Hill Vineyard. Remains a family business after six decades of operation. Distinctly non-interventionist winemaking style. Wines are fruity, non-oaky, non-malolactic in style and go very well with food. Predominantly Chardonnays, White Reislings and Gewurtztraminers. Winery tours and tastings at the ranch house by appointment. 3331 Saint Helena Highway. www.stonyhillvineyard.com

Casa Nuestra Winery & Vineyards
. Established in 1979 and produces around 2,500 cases annually from the estate's organic vineyards. Specialising in rare varietals and unique blends including: Cabernet Sauvignon, Cabernet Franc, Meritage, Merlot, Petite Sirah, Charbono, Carignan, Zinfandel, Two Goats Red Blend, Tinto St. Helena, and Tinto Oakville – both made from traditional field-blended vineyards, Rosado (a dry rosé), Dry Chenin Blanc, Verdelho, White Riesling, Late Harvest French Colombard and Symphony. Visits daily by appointment. 3451 Silverado Trail North.
www.casanuestra.com