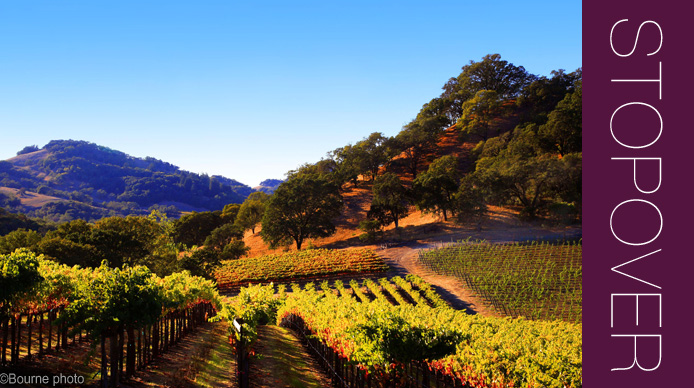 The eclectic town of Healdsburg is the starting point for exploring the Russian River area, and worth stopping in to explore the fantastic food, wine and shopping on offer. There are antiques treasure troves, independent book stores, galleries, organic local produce on sale and so much more.
The town was founded in 1851 by Harmon Heald, who was lured north by the Gold Rush but found far better riches in the region's growing soil. Healdsburg flourished with the arrival of the railroad in 1871.
The restored plaza is the place to be on a summer's evening, where you can stroll past historic homes, visit the pretty shops or relax in a cafe with a local vintage. The outdoor bandstand hosts free concerts, and there are frequent antiques fairs.
Many of the finest regional wine appellations on the west coast surround Healdsburg – the Russian River, Dry Creek, Chalk Hill and the Alexander Valley, just to name a few. No wonder it's home to some of the oldest names in California winemaking, with over 100 renowned wineries and tasting rooms. Though most famous for its Zinfandels, Pinot Noirs and Chardonnays, Healdsburg offers a style and taste for every palate. There are over 32 tasting rooms in Healdsburg.
Portalupi. The second you walk in the door you become part of the Portalupi family. Jane Portalupi and Tim Borges, a husband and wife team greet you at the door and make your visit unforgettable. Influenced by their rich Italian heritage and years of experience in the wine industry, your palette and mind will leave enriched with a wine country memory that will last forever. Wines include Zinfandel, Pinot Noir et Barbera. 107 North Street. www.portalupiwine.com
Vin Couture Lounge. Vin Couture tasting experiences are presented in fights allowing you to taste several wines from a single winery or comparative flights of a single varietal from several wineries. Vin Couture provides once-in-a -lifetime opportunities for individuals to purchase limited production or highly allocated couture wines. 322 Healdsburg Avenue. www.vincouturelounge.com
JCB Tasting Room . Swanky, elegant and sophisticated, the Jean-Charles Boisset Tasting Room offers the JCB collection of rare, numbered-edition wines crafted by Jean-Charles Boisset's family of wineries from Burgundy and California. 320 Center Street. www.jcbwines.com

Cyrus. Blessed with two Michelin stars, marrying classic French techniques with Asian flavours. Diners can build their own three, four or five course menu, or let the chef prepare seven courses of whatever inspires him. 29 North Street. Tel.: +1 707 433 3311. www.cyrusrestaurant.com
Bear Republic Brewing Company. The bar boasts 16 award winning beers on tap. 345 Healdsburg Ave.
Charlie Palmer's Dry Creek Kitchen. Overlooking the historic town plaza, great and simple foods highlight Sonoma County's fresh seasonal ingredients. Complemented by an all-Sonoma County wine list. 317 Healdsburg Avenue . Tel.: +1 707 431 0330.
Madrona Manor. Stylish, Michelin rated, high-end cuisine in a cosy, old world setting. 1001 Westside Road. www.madronamanor.com
Barndiva. Lounge dining & gardens. California cuisine farm-to-table style. Great food, art and bar. 231 Center Street. www.barndiva.com
Mill Street Antiques. Vintage signs, clocks, furniture, designer and vintage clothing. 44 Mill Street.
Options Gallery. A showcase of distinctive and contemporary jewellery, clothing and home accessories selected by owner and designer Sue Sacks. Artists from around the world are featured in this lively and colourful store. 126 Matheson Street.