Island Hotel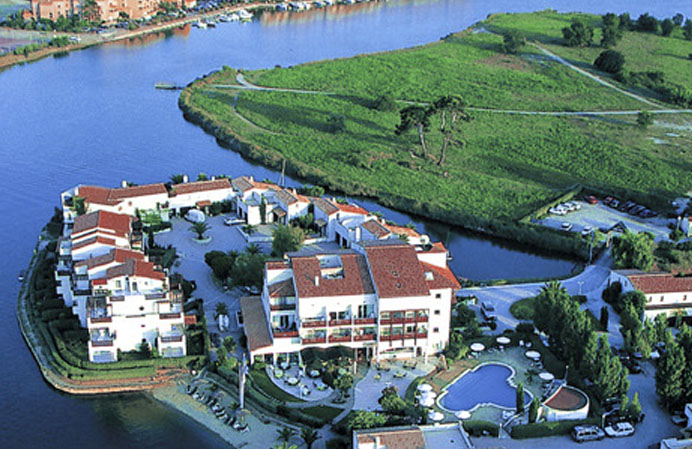 Description

At the water's edge sits the hotel, "Isle of La Lagune." A serene place adorned with light, this hotel seems like a boat moored.

The island resort, located on a private stretch of beach, is ideally situated between a lagoon and the Mediterrean. This beautiful location truly is in the heart of Roussillon, surrounded by both the Pyrenees mountains and the sea.

Past the small wooden bridge stretching out to the seaside, you can arrive by boat directly on the beach, L'Ile de la Lagune is one of the rare places that provides calm luxury. The intense blue sky and sea, sun lingers even until winter. The exuberance of the Catalan land contrasts with the uncluttered serenity of the hotel, the creativity of its restoration, its pampering spa, the intimacy of the rooms and the casualness of its bar.

The contemporary decor, directed by Kristian Gavoille, adds pops of bright color to the vintage furniture. The fireplace is gently surrounded by deep, comfortable sofas. The illuminated bar is staged to provide guests an opportunity to try wines of the region. At the restaurant,

Almandine

, chef Philippe Galindo, takes the best ingredients, using fusion of different flavors, such as the lobster cooked "between black and red." At the water's edge sits

L'Ile de la Lagune

, a place gently adorned with light. No detail has been overlooked. The starred hotel can be booked as an "all exclusive" package where, between private beach, swimming pool, garden, terraces and spa, there is one wish: to never leave!