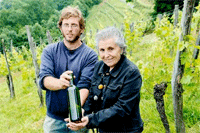 Domain owners, winemakers, winegrowers… The world of wine is not just a "male word". WineChicTravel wished to pay tribute to the Ladies of Wine. The kind of woman who dedicates herself with spirit and know-how to work her vines and her wine.

«Iron hand in a velvet glove
»
, they represent a world of seduction. Strong personalities that we want you to meet.