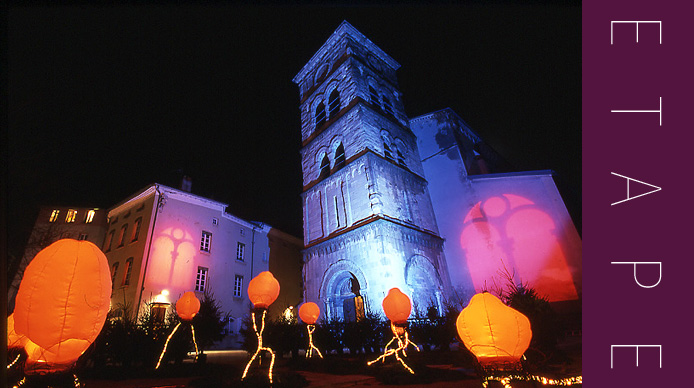 The antique Valentia, vigorous city in Latin, at the crossroads of the north-south roads was attached to the Kingdom of France in 1446. Its university was founded in 1452 by the future King Louis XI. François Ist strengthened the town with a citadel and a wall. François Rabelais studied there in 1532 and the Artillery school had young Bonaparte as one of its illustrious lieutenants. Valence was classified Town of Art and History.
On the steps of Bonaparte
As an adolescent, Bonaparte graduated from the Artillery school with his brevet of artillery lieutenant. Valence was his first garrison. Once Emperor, he would often go back and also stopped there on his way to exile on the island of Elba. A life-size statue of him sitting and reading was erected on place Aristide Briand.
St Apollinaire Cathedral.
Classified historical monument, the cathedral is the oldest building in Valence. Of Roman style, it was erected in the XIth century and was consecrated in 1095 by the pope Urban II to preach the first Crusade.reading was erected on place Aristide Briand.
The Maison des Têtes.
Finely and richly sculpted allegorical heads symbolizing fortune, time, medicine, the facade is a flagship of XVIth century architecture.
The Peynet bandstand.
On the vast esplanade of the Champ de Mars, the charming pavilion of turkish-persian influence also inspired the illustrator Peynet to immortalise and shelter his « lovers ». The bandstand has been named after him.
The Philolaos water tower.
The two tall twisted sleek towers shoot up all white in the centre of the Jean Perdrix park. By the Greek sculptor Philolaos Toupias, a truly unique work of art, it won "Best Urban art work in France".
Vines in town.
At the Saint Ruff cloister, in the middle of the town centre, just below the cathedral, a discreet square where vines and grown and harvested.
Tourism board. 11 Boulevard Bancel. Tel.: +33 4 75 44 90 40

Pic. With three generations of Great Chefs before her, Anne-Sophie has managed to make herself an internationally renowned.. first name. With three Michelin stars gained in 2007, Anne-Sophie, from the Ardèche, now runs the Maison Pic in Valence. Gastronomic restaurant or bistro? It's just a question of price and appetite. In either case, you won't be disappointed, everything tastes divine. A true master chef, she transforms her featured products: chestnuts, game, aromatic herbs and eggs, with audacity and simplicity. Anne-Sophie Pic owns a small vineyard in Saint-Péray. A Relais & Châteaux establishment. 285 avenue Victor Hugo. Tel.: +33 4 75 44 15 32
Bistrot des Clercs. This is one of Michel Chabran's restaurants. The gastropub bistrot is one of the trendiest, located in the historic town centre opposite the Maison des Têtes. Run by Laetitia and her team, the service is quick and friendly. The Saint Romain ravioles cooked in chicken stock, the ox tail and homemade waffles have cemented the bistro's reputation. 48 grande rue. Tel.: +33 4 75 55 55 15. www.bistrotdesclercs.com
Hôtel de France. Hidden behind what appears to be a classical facade, stands a comfortable, zen and uncluttered hotel. Overlooking the courtyard, the bar and lounge open up on a long terrace, perfect for enjoying breakfast. The light-filled rooms, in beige and white, are conducive to rest. A charming 3 star hotel in the town centre. 16 boulevard du Général de Gaulle. Tel.: +33 4 75 43 00 87. www.hotel-valence.com
Les Bouteilles. Wine merchant and luxury grocer, the cellar man at Les Bouteilles has a preference for small wine producers. A niche he likes to introduce to his clients and organise tastings for. Tel.: +33 4 75 41 46 77. www.lesboutelles.fr
Maison Nivon. The Suisse, a specialty of Valence, is a shortbread biscuit with ground almonds and orange peel shaped like a puppet. These have been made by Nivon for generations: a biscuit inspired by the uniform of the Swiss guards at the service of Pope Pie VIth who died in Valence in 1799. 17 avenue Pierre Sémard. Tel.: +33 4 75  44 03 37