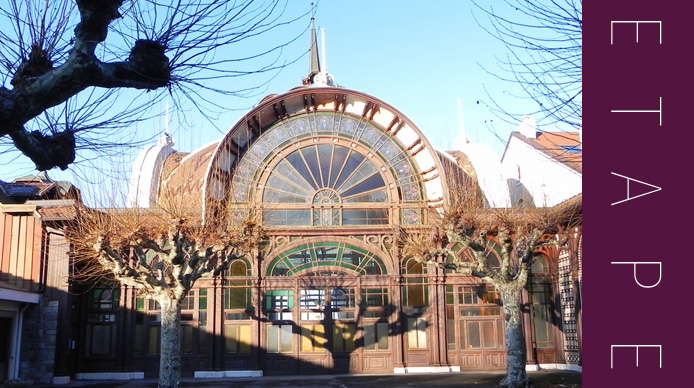 Marcel Proust jumping into the waters outside the beautiful Royal Hotel is the quintessential luxurious image of Evian. Today the picturesque village of Evian remains the definition of chic with palaces, casinos and Belle Epoque and Art Nouveau style villas, all situated along Lake Geneva. The spas and vineyard of Chablais are a mere 35 minutes by boat from Lausanne, Switzerland
The Cachet Springs Previously known as the Saint Catherine Fountain, the Cachat spring is the most famous of the many natural water sources in Evian. The spring, built in 1903 (the same year as the pump room) runs year-round at a constant temperature.
La Buvette Cachat. This water temple, located in the heart of the city, was built by Jean Hébrard in 1903. Today visitors can tour the classical Art Nouveau masterpiece May to September. Tel : 04 50 84 80 29
La Villa Lumière The former summer villa of Antoine Lumière (of the Lumière brothers who invented the cinematograph) has been Evian's City Hall since 1927. The beautiful building is an example of neo-classical elegance and still retains much of its original decor (open to public during office hours).
Les anciens Thermes The architect Brunarius erected Les anciens Thermes in 1902 and, until 1984, the space was widelt considered the a hydrotherapy mecca. In 2006, it was converted into a Cultural Center and consequently renamed Palais Lumière. Tel : 04 50 83 15 90
Office de Tourisme : Place d'Allinges. Tel : 04 50 75 04 26 www.eviantourism.com

The Royal and the Hermitage. "Le Royal" and the "Hermitage" are two beautiful palaces on 42 acres of land in the hills of Evian. The palaces, built in 1909, were designed to accomidate elite guests – in fact; it was King Edward VII who named it "Le Royal."
"Le Royal" was completely renovated in 2010 and since then has become much more family-friendly, even adding a kids club. Older guests can indulge in the spa facilities or enjoy fine dining at the restaurant Maison Les 4 Terres, with dishes from chef Michel Mottet. Each summer the glamorous Evian Masters takes place at the Palace's master golf course, attracting top players from around the world.
La Grange du Lac. Le Grange du Lac (literally meaning the barn on the lake) is an auditorium in the park, often featuring orchestras, ballets, operas and Bohemian music concerts. The beautiful building, made from pine and red ceder wood and illuminated by a Murano crystal chandelier, is the perfect place for a romantic date. Packages are offered.
1230, Avenue du Léman. Tel : 04 50 26 85 00 www.evianroyalresort.com
Le Couloir des Saveurs. A friendly neighborhood wine and cheese bar from chef Laetitia Robbe. 16 Rue Nationale. Tel : 94 50 83 06 12
La Cave à Sam. This charming wine store has great selection at reasonable prices. 8 rue Bernard Moutardier. Tel 04 50 75 62 19 www.la-cave-a-sam.com
Histoire de Goû. This restaurant has a woody and cozy atmosphere. Sommelier Dominique Froissart has created a wine list with 200 small winemakers and offers wine by the glass and bottles to take away. The wine is paired with local cuisine, including freshly caught fish from the lakes of Evian. Avenue du Général Dupas. Tel : 04 50 70 09 98 www.restaurant-histoiredegout.com
La Verniaz et ses Chalets. The Verdier family created a little paradise by transforming their 17th century farmhouse and guest cottage into a lovely retreat. Situated between the lake and mountains, guests can enjoy the beautiful nature of Savoie, while sitting by the fireplace. Member of the Relais & Châteaux. 1417 avenue du Léman. Tel : 04 50 75 04 90 www.verniaz.com