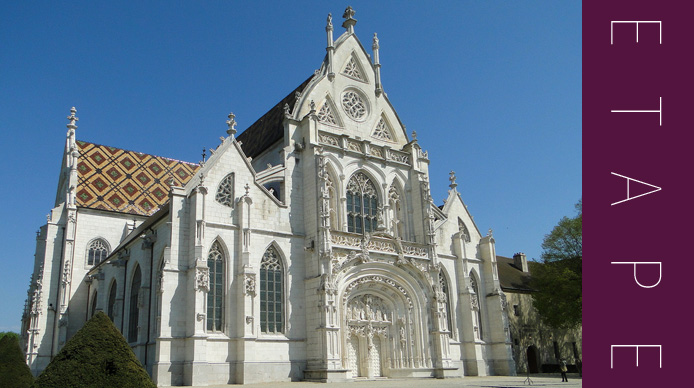 Bourg-en-Bresse was an Ancient Roman town in the Middle Ages and became French in the sixteenth century. Today, the city is a cultural hub that has a a recognized French gastronomy….AOC Bresse poultry and cheese are perfect pairings with the wines of Bugey.
Royal Monastery of Brou
Margaret of Austria, widow of Philibert le Beau Duke of Savoy, ordered the monastery to be built to accommodate the royal tombs, including her late husband. The best artists from all over Europe contributed to its construction in the early Sixteenth century resulting in a masterpiece of Gothic architecture. Today, temporary exhibitions, cultural events and private receptions enrich tours of the Royal Monastery. Tel 04 74 22 83 83 www.monuments-nationaux.fr
Apothecary The Hotel Dieu is a grand reflection of centuries past. The pharmacy maintains a rare collection of earthenware pots, kettles, tanks and even a laboratory which is still in perfect working condition. Tours every Saturday. 47 boulevard de Brou.
Les Glorieuses de Bresse. A covered market fairground for "the glorious bresse." www.glorieusesdebresse.com
Tourism Office. 6 avenue Alsace Loraine. Tel : 04 74 22 49 40

Mets et Vins. Chef Stéphane Prevalet, originally from Doubs, moved to Bourg 7 years ago. Since then he has been creating delicate dishes despite using the richest ingredients. His foie gras, poached Bresse chicken in cream sauce, and pumpkin soup with walnut oil are a real treat! Tel : 04 74 45 20 78
Le Griffon. This hotel was recently renovated from floor to ceiling by owners François and Auréile André. The hotel features a high-end spa, sauna, billiards and library. 10 rue du 4 Septembre. Tel : 04 74 23 13 24 www.hotelgriffon.fr
La Cave de Grumeur. Robert Gallet, master sommelier, created this wine store in 1988 with the goal of offering a top selection of fine wines. He puts all his talent to good use in selecting wines of Bugey. Rue Charles Robin. Tel : 04 74 45 26 99
Boutique Giraudet. A century of tradition in making soups and dumplings, still carefully molded by spoons Tel : 04 74 22 16 88 www.giraudet.fr
Le Français. Large mirrors, chandeliers and rococo ceilings….this historic brewery has a beautiful ambience and wonderful food. Tel 04 74 22 55 14 www.brasserielefrancais.com