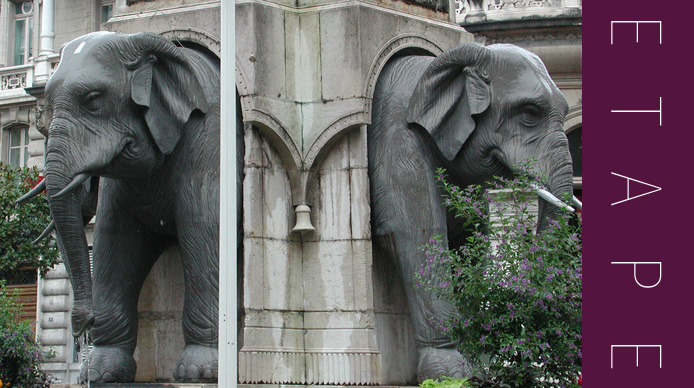 Chambery is a mecca of history, once having been the capital for the Dukes of Savoy and home to philospher Jean-Jacques Rousseau, who lived there for ten years. A walk through the city is like taking a journey back in time through its heritage. The colorful facades of mansions built in the Lombard style of architecture are surrounded by a remarkable omnipresence of water. Surrounded by wetlands, with two rivers that cross, Chambéry has the distinction of having been built on stilts.
Cathedral of St. Francis de Sales. This cathedral is known for having the largest trompe l'oeil painting in all of Europe at 6000 square meters.
The Museum of Charmettes. The country house of Madam de Warrens where Jean Jacques Rousseau loved coming during summers. The gardens, built in the 18th century, are a "a place of happiness and innocence," as Rousseau once said. Free Admission 890 chemin des Charmettes Tel : 04 79 33 39 44
Promenade Jean Jacques Rousseau. This two-hour route through town was erected by the town of Chambery in 2012, in honor of the famous philosopher. www.chambery-tourisme.com
The Elephant Fountains . The Fontaine des Éléphants ("Elephants Fountain") landmark was erected in 1838 to honor General Boigne, a prominent citizen of Chambéry. The elephants were selected to be emblematic of time he spent abroad in India.

Brasserie Le Z. Jean François Corvasier and his wife Laurence run this lovely brasserie which features classical seafood and meat dishes. The hearty cuisine is accompained is paired with Savoie wines such as Domaine Bouvet Chignin-Bergeron or Jean Perrier et Fils Apremon, among others from the restaurant's extensive list. 1212 Avenue des ducs de Savoie. Tel : 04 79 85 96 87 www.brasserielez.f
Côté Marché. Having worked at the luxurious Hotel Le Kilimandjaro in Courchevel, Chef Alexandre Ongaro is clearly no stranger to success. His latest adventure was returning to his hometown, Chambery, and with his wife Julie (an oenologist) creating this popular gastro-pub/bistro. 60 rue Vielle Mint. Tel 04 79 85 04 35 www.cotemarche-restaurant.com 60 rue Vielle Monnaie. Tel 04 79 85 04 35 www.cotemarche-restaurant.com
Les Suites de l'Hôtel de Sautet. This beautiful apartment is tucked away inside an 18th century mansion. The 300 square meter space was decorated by Philippe Tournier Lanthelme, and features polished wooden floors, beautiful moldings, high ceilings, and, of course, a pied-à-terre. Tel 06 16 83 16 64 www.hotel-chambery-sautet.fr
Le Château de Candie. A 5-star hotel located in the outskirts of Chambéry, in a chateau originally built in the 15th century! Chef Bruno Locatelli's restaurant is highly recommended. 5 Rue du Bois de Candia. Old Chambéry. Castle Hotels member and Collections.Tel : 04 79 96 63 00 www.chateaudecandie.com
Au Fidèle Berger. Savor the pleasurable experience of tea time in the salon of this historic site. Make sure to try the chocolate truffles from Céderic Pernot. 15 rue de Boigne. Tel : 04 79 70 22 62