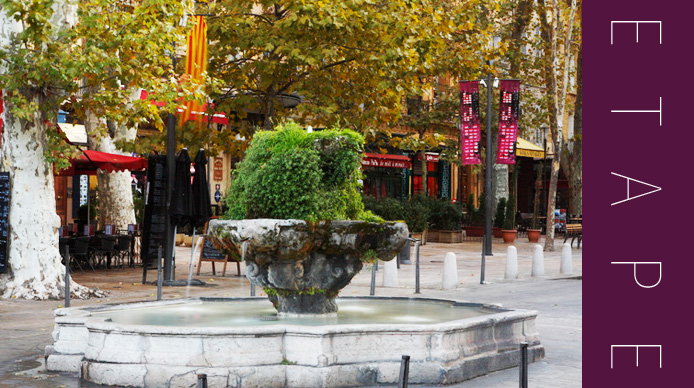 Located at the crossroads of the region's main arteries, cradled by the superb Sainte-Victoire mountain, much celebrated by Cézanne, the town is surrounded by appellations: the AOC Côte de Provence designation Sainte-Victoire to the east, the AOC Palette to the south, the AOC Baux-de-Provence to the west and the AOC Coteaux d'Aix all around. A perfect place to stop to tour around these beautiful landscapes!
The centre of Aix has something aristocratic about it: townhouses, hidden gardens and Italian style alleys with a thousand fountains give it tremendous charm. It is full of great little chic places to visit.
Saint-Sauveur Cathedral. A remarquable cathedral whose architecture blends elements of the Vth and XVIIIth centuries. Rue Gaston-de-Saporta.
Granet Museum.A must see. The 4500 sqm museum holds a collection of French, Italian and Dutch paintings along with some pieces by Cézanne and organises much talked about temporary exhibitions. Place Saint-Jean de Malte; Tel.: 04 42 52 88 32 www.museegranet-aixenprovence.fr
In Cézanne's footsteps. The local tourism office has drawn an itinerary (available at the tourism board) retracing his favourite places. Cézanne's workshop is 1.5 kms to the north of the city centre, while the Bibémus quarry is to the east – both are emblematic locations for the artist.
Le Pavillon Noir. The iron and concrete architectural structure signed Rudy Ricciotti was designed and constructed for Angelin Preljocaj's ballet. Inside, an auditorium that seats 386 to admire the artist's creations. Do book ahead! www.preljocaj.org

The Sextius thermal baths. A wellness break in an exceptional location, already appreciated by the Romans! The first baths were indeed built in 70 BC, utilizing the healing properties of the Aquae Sextra source, from where the city hails its name. 55 Avenue des Thermes. www.thermes-sextius.com
The Mazarin Garden. . This new address both pleasant and refined is located right next to the very nice square, place des Quatre-Dauphins, right in the middle of the Mazarin quarter. High quality food, smart and colourful decor, and a small patio for those sunny days. 15 Rue du 4 Septembre; Tel.: +33 4 42 58 11 42.
Aix et Terra. Local produce that is bth smart and good: truffles, olive oil, jams… you'll want to try it all! 32, rue Vauvenargues; Tel.: +33 4 42 09 43 81.
La Cave de Bacchus. A cellar with an extremely thorough selection, right in the centre of town, with a charming and attentive welcome. 27 rue d'Italie. www.bacchusaix.com
La Maison d'Aix. In this "guest residence", Laura, the lady of the house, welcomes you to a highly elegant location, imprinted with a certain level of sensuality. This former townhouse in the Mazarin quarter contains, after being nicely remodelled, a large communal drawing room, a superb bijou spa and some modern rooms. 25 Rue du 4 Septembre; Tel.: +33 4 42 53 78 95. www.lamaisondaix.com
Autour d'Aix
Le Puy-Sainte-Réparade

Domaine Château La Coste. A monumental estate: the reception hall was designed by Tadao Ando, the wine story by Jean Nouvel, the bandstand by Frank Gehry, the pavillions by Jean Prouvé… The names of these great architects are complements by those of great artists: Alexander Calder, Richard Serra, Louise Bourgeois, etc. The surrounding estate serves to remind us of the place's primary function: Vines! Organically and bio-dynamically grown, the vineyard stretches across 122 hectares of hillsides, from which one can see snow covered crests of the Alps on a clear day. In the coming years, other pieces will be added, this time by Renzo Piano or Oscar Niemeyer, as well as a luxury hotel. Tickets need to be purchased for visits; 2750 Route de la Cride, 13610 Le Puy-Sainte-Réparade; Tel.: +33 4 42 61 92 90. www.chateau-la-coste.com
Jouques
Domaine de Villemus. A charming, yet cosy estate (20 hectares) that will seduce you with its view over the region. You'll feel far removed from everything among the vines, the olive trees, the almond trees and the lavender plants, as if you where in a small corner of paradise. In this small eden, only one man is in charge: Michel Adaoust, who growns everything organically with care and passion. Jouques; Tel.: +33 6 22 32 44 84. www.domainedevillemus.fr
Le Tholonet
A delightful stop between the rows of plane trees.
Le Relais Cézanne. A gourmet address for lunch, around a refined Provencal cuisine in a wonderfully elegant setting. Chemin départemental 64 C, 13100 Le Tholonet; Tel.:+ 33 42 66 91 91. www.relais-cezanne.com
Palette
Domaine Château Simone .Be warned, here, you'll need to show your credentials.. and call ahead to book an appointment. This is probably of the most sought-after estates in the region and it is no secret. Rightly so, however it's excellent vintages have proved so popular with the connoisseurs that almost all the production is pre-ordered. The estate has been a supplier to the Elysée Palace for several generations of presidents (you'll in fact even be able to catch a glance of some of the menus for the officials functions). Only by entering this high place for wine will the word "authentic" ever garner its full meaning: nothing seems to have moved for centuries. Under the ownership of the Rougier family since 1830, the estate perpetuates a method secretly transmitted down generation to generation. Chemin de la Simone, 13 590 Meyreuil; Tel.: +33 4 42 66 92 58. www.chateau-simone.fr