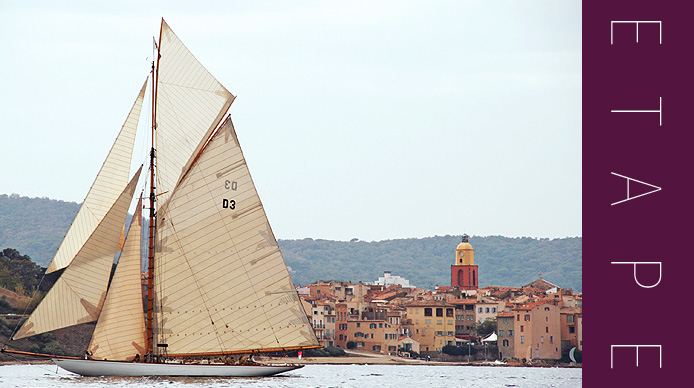 The star of the Côte d'Azur, and meeting spot for celebrities during the summer, reveals an authentic land that is thousands of years old, nestled in the hills of the peninsula. One strolls around its mythical small port, with its coloured houses, and lingers on the place des Lices, between the cafés and the boule players. For a full view of the harbour, you should cross the typical Bourgade quarter and climb up to the Citadel. The light here is like nothing you'll have seen before: it is the only port on the côte d'azur that faces north. A unique atmosphere that has of course inspired artists, to the point where it even became the capital of neo-impressionism for a time, with Signac, Matisse, Dufy, Bonnard or Manguin.
Annonciade Museum. This excellent museum is reminiscent of the influence Saint Tropez had on the pictural avant-garde in the early XXth century. Its permanent collection includes, amongst others, pieces by Bonnard, Dufy, Picabia, Matisse or Derain. Place Georges Grammont; Te l.: +33 4 94 17 84 10.
Pampelonne Bay. 27 beaches of fine sand over 5 kms.. the mythical Pampelonne bay welcomes the champagne – or rosé! – sipping jet-set every summer on the edge of the water. Thrown under the spotlight in 1955 when Brigitte Bardot filmed "And God created Woman", it has been full ever since and has acquired some famous venues, such as the Club 55 or La Voile Rouge.
Gassin
This nice perched village, with its sleepy alleys and its stunning promontory square, offers a fantastic view over the region and the peninsula.

Domaine Château Barbeyrolle. A fine lady. Régine Sumeire, always welcoming and so engaging, is one of the most respected figures of the Mediterranean wine world. At the head of the estate since 1977, she has been instrumental in popularising rosé wine, securing its credentials. Her "rose petal" blend launched in 1985 brought her into the avant-garde of a light and fine rosé wine, starting a trend for many other producers. Her 12 hectares, pampered with care and cultivated organically, include 8 varieties of grapes, which are harvested by hand. The primary concern here is to respect the land. A quality of attention that translates into each vintage. By way of anecdote, Régine is also a passionate cook and has edited a small recipe book: "Winemaker and food lover". 2065 Chemin de la Berle, 83 580 Gassin; Tel.: +33 4 94 56 33 58.  www.toureveque.com
Domaine Château Minuty. Alleys of pink laurels, spotless hillsides covered in vines, a mansion shaded by plane trees.. The Château Minuty distinguishes itself by its allure and is worthy of the greatest properties in the Provence region. Since 1936, this superb estate has been under family ownership. 20 years ago, the two brothers Jean-Etienne and François Matton successfully took the helm of the great Provence wine. After restructuring the estate and introducing new grape varieties, they stopped the production of the Oratoire blend, which had spearheaded the estate, and created the Prestige and Rose and Gold blends, dedicated to premium grapes. The finesse and elegance of their vintages make them deserving of the greatest gastronomic tables. Whilst taking a tour of the estate, make sure you see the small Napoleon III chapel, circled by some of the oldest vines on the estate. Route de la Berle, 83 580 Gassin; Tel.:+ 33 4 94 56 12 09. www.minuty.fr

Domaine Bertaud-Belieu. It is probably here that you'll find the first vines endemic of Saint-Tropez. Back in 1340 the ruler of Berthaux, Lord Gassin, owned the entire peninsula… A fresh wind that is now blowing over the estate and a young motivated team that took over 5 years ago. Its history is mirrored by its cellar: on the outside, one would think its columns date from the Antiquity… but on the inside, you'll notice that it is in fact a modern warehouse sitting on the estate's vintage with professionalism! The other noteworthy detail is that the estate offers bottles in varying sizes. One recites their names as you would a poem: Magnum (1,5 L), Jeroboam (3 L), Rehoboam (4,5 L), Mathusalem (6L), Salmanazar (9L), Balthazar (12L) and Nabuchodonosor (15L)! A nice tapas bar project should soon become a reality. Route de Ramatuelle, 635 RD 61, 83580 Gassin; Tel.: +33 4 94 56 16 83. www.bertaud-belieu.com.

Chez Sénéquier. A great classic, you cannot miss. Its terrace is THE place to drink a coffee on the port. It was redecorated a few years ago in a trendy red. At the back, a pastry shop just as renowned. Quai Jean Jaurès; Tel.: +33 4 94 97 20 20.
Un jour à Peyrassol. A delicatessen, wine bar and takeaway, all at the same time, we liked this address, which reminds us of the taste and refinement of the estate, La Commanderie de Peyrassol, in the hinterland. A good tip for the Parisians, there is also a «Truffle bar» in Paris! 17 avenue du Général Leclerc; Tel.: +33 4 94 97 02 55. www.unjourapeyrassol.com
Bistrot Canaille. A small place in the authentic Bourgade quarter, off an alleyway, where you'll enjoy tapas (or dishes) of the highest quality in a modern and relaxed atmosphere. Good wine list. Rue des Remparts; Tel.: + 33 4 94 97 40 96.
La Tarte Tropézienne. It is while filming «God created woman» that Brigitte Bardot allegedly fell for the typical brioche cream tart and whispered in the creator's ear he should name them «tropézienne». Their popularity has not gone down since. 2, rue Clemenceau. www.tarte-tropezienne.com
La Ferme d'Augustin. The "Ferme d'Augustin" is a familial and original hotel located in the middle of a beautiful garden, just few steps away from "Tahiti" beach and five minutes away from Saint-Tropez. Do not leave until tasting their homemade Rosé. Route de Tahiti ~ Saint-Tropez; Tel.: +33 4 94 55 97 00. www.fermeaugustin.com
Pastis Hôtel. A chic and original hotel, mixing vintage furniture to contemporary art work in an iconoclastic setting, very trendy. Add to that the view over the sea. 61 Avenue Général Leclerc; Tel.: +33 4 98 12 56 50. www.pastis-st-tropez.com
Rondini Workshop. Wardrobe staples for any real fashionista, always in fashion, the Tropéziennes were born here, and continue to be made by hand in this small typical workshop. 16 Rue Georges Clemenceau; Tel.: +33 4 94 97 19 55. www.rondini.fr
House of Jam. At the bottom of the village of Gassin, this store has no less than 450 types of homemade jam on display… Take your time to choose! Route du Bourrian, 83 580 Gassin; Tel.: + 33 4 94 43 41 58. www.maisondesconfitures.com.