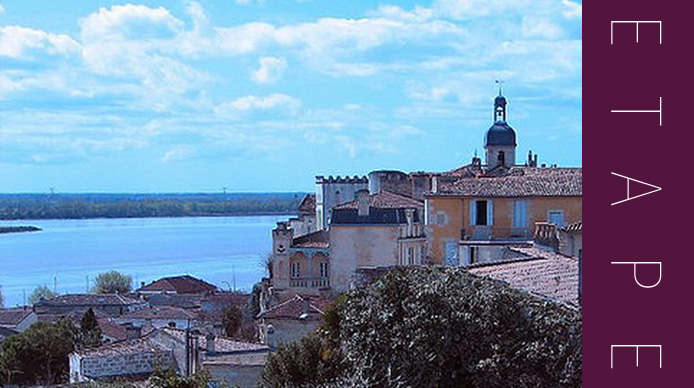 Roman camp, fortified town, it is thought the Consul Ausone had a villa on the cliff. He is thought to have had many properties! However, the presence of the powerful Pontis, a family of Roman senators, is undeniable. After the "Pax Romana", the lootings, the Hundred Year War, the fortifications destroyed by order of Louis XIV, the Citadel of Bourg can breathe. It obtained royal privileges, for instance by becoming the first godchild of the city of Bordeaux, a sponsorship which allowed the small town to develop trade links, including the selling of its wine, with the city.
Château de la Grave. A magnificent and authentic sixteenth century château whose round towers with slated roofs emerge from above the vines. The 45 hectares are spread over the hilltops. The estate produces a dry white atypical Côtes de Bourg, the Château de la Grave-Grains Fins which is a blend of 70% semillion and 30% colombard: an heirloom grape variety which gives the white wine zesty and wooden notes. "From the vine to the glass", the guided tour with commentary includes a tasting and last approximately 1.5 hours. Tasting workshops and guest rooms at the château. By appointment  www.chateaudelagrave.com
«On the footsteps of Louis XIV». The itinerary with audio-commentary takes you to 19 different places between the upper and lower parts of town, through the Citadel, the market hall, the museum, the port, the wash house and the park. A thorough tour of the town.
The Villa Mauresque. A private villa built at the beginning of the twentieth century for a retired statesman from the colonies. Its surprising Arab influenced architecture dominates the port and catches the eye of passers-by.
Art and Wine Concerts in Bourg. These take place in the Citadel. A programme which allies the pleasures of music with those of wine and food tasting. A nice way to promote the region's wines. Further information can be obtained from the Tourism Office.
Tourism Office of the district of Bourg, Hôtel de la Jurade. Tel.: +33 5 57 68 31 76 www.bourg-en-gironde.fr

L'hippocampe Bleu. We're practically on the shore. The estuary is the preserve of the sturgeon, the lamprey, the eel and the old caviar of Aquitaine, brought back in fashion by the Petrossian label. The restaurant serves an array of fish and seafood that one cannot enjoy without a glass of dry white Bordeaux. 3 rue du 4 Septembre. Tel.: +33 5 57 68 37 00
La Figue du Roy. The story of Louis XIV's little fig has travelled far. The young king having tasted one in a garden of Bourg, the fig was immediately held sacred and turned into a confectionery. Candied fruit wrapped in almond paste, all sprinkled with fig liquor. Daniel Maritch, a pastry chef and chocolatier has kept the tradition going and it's so good! Tel.: +33 5 57 68 45 78
Maison du Vin des Côtes de Bourg. The story of Louis XIV's little fig has travelled far. The young king having tasted one in a garden of Bourg, the fig was immediately held sacred and turned into a confectionery. Candied fruit wrapped in almond paste, all sprinkled with fig liquor. Daniel Maritch, a pastry chef and chocolatier has kept the tradition going and it's so good! Tel.: +33 5 57 68 45 78 www.cotes-de-bourg.com