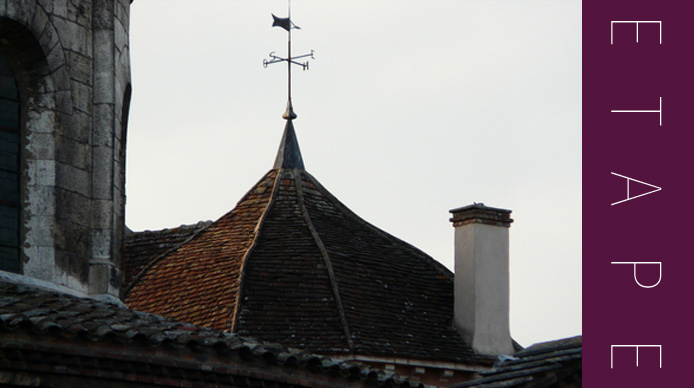 Renowned for its Roman architecture, this small town of Tournus is the entrance gate to southern Burgundy, a hinge between the Mâcon and Chalon vineyards, and an important stopover to discover the wines and their heritage.
Saint-Philibert Abbey and its grounds. It is said to have been built on a former pagan site. Within a fortified enclosure, the magnificent monastery has remained amazingly intact, with its large church, cloister, chapter house, cellar and dining hall. A visit to this place enables one to drink in the marvels of such a well kept and beautiful site. The Abbey's facade stands such a fortress. The nave, which is over 18 metres tall, is surprisingly strong yet delicate. The remains of Saint Valerian are to be found in the crypt; he was an evangelist from Tournus who died a martyr in the second century. The vast monk's dining hall and the wine cellar are today used as exhibition halls for modern artists and for concerts.
The Hôtel-Dieu. This hospice was built in the seventeenth and eighteenth centuries, and although lesser known than the one in Beaune, is a fair contender with its three halls – the ceilings of which are beautifully carved – and its enclosed beds.
The apothecary's shop is lined with china pots from Nevers and has a painted ceiling. It has only been recently rediscovered and is in very good condition. Rue de l'Hôpital. Tel.: +33 3 85 51 23 50.
The Greuze Museum. The works of Jean-Baptiste Greuze, who hailed from Tournus, born in 1725, are at home here. Studies, engravings and original drawings are alongside an endowment of modern art with paintings and sculptures. Tel.: +33 3 85 51 23 50
The Bicycle Museum. Michel Grézaud's collection retraces the history of bicycles from the first ever "petite reine" bicycle to the racing bikes used in the Tour of France. Fascinating. At the former Potato Starch Works. Pas Fleuri quarter. www.enviesdevelo.com

Aux Terrasses. The bourguignon chef, Jean-Michel Carrette, is proud to prepare generous Burgundy recipes. However, he does jazz them up a bit with his own inventions such as Colvert's hot paté, frog cream with madras curry, or coconut soup and Spanish chorizo ice cream. His wine list includes a rich collection of local productions, which he chosen in his capacity as a wine connoisseur himself. 18, avenue 23 Janvier. Tel.: +33 3 85 51 01 74
Le Rempart. Located at the foot of the Abbey, this former fifteenth century guard's house, complete with Roman patio, has become the Marion family's restaurant. Frogs, Bresse chicken, white pike perch in sorrel sauce are on the menu in this fine Burgundy restaurant. 2 & 4, avenue Gambetta. Tel.: +33 3 85 51 10 56
Greuze. The chef Johann Chapuis learnt his trade in Lyon and in Michelin starred restaurants. He has decided to use only the very best ingredients in his own restaurant. His specialty is quenelle of pike perch, and he also has a good selection of meat, poultry and fish, which he orders direct from Brittany. This is THE place to go for gastronomy in Tournus. Place de l'Abbaye Saint Philibert. Tel.: +33 3 85 51 13 52