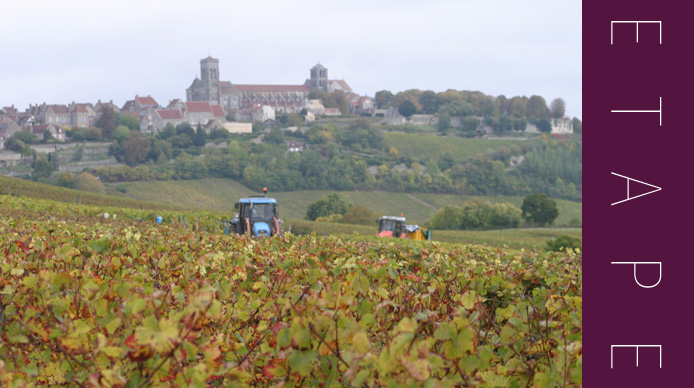 The dukes of Burgundy owned a walled in vineyard at Vézelay called Clodu, or the Dukes' vineyard. Under their initiative the vineyard was gradually rebuilt in less than thirty years and now stretches out over a hundred or so hectares. Planted with chardonnay vine plants to produce white wines such as Burgundy-Vézelay, with a specific taste, but also red Burgundy and a Burgundy-grand-ordinaire from melon de Bourgogne vine plants or auxerrois vine plants, old Burgundy vine plants which had almost been forgotten. Famous for pilgrimages, Vézelay is a sanctuary belonging to UNESCO heritage. It became prosperous between the tenth and thirteenth centuries when thousands of pilgrims, kings, princes and popes came to venerate Our Lady's relics before continuing their journey to Compostello. Legend has it that a certain monk by the name of Badillon brought the relics back from Saint Maxime-la-Sainte-Baume in the Var. Whether those of Mary Magdalen, Bethany or King Herod, one does not know which it is. The author, Paul Claudel would call her the "Holy muse".
Sainte-Madeleine Basilique
On the Eternal Hill, above Vézelay, the basilica dominates the vineyards and seems to watch over them. The visitor is overwhelmed by the exceptional quality of the Burgundy Roman architecture from the eleventh and twelfth centuries, with its magnificent proportions, the delicacy of its sculptures and its light. Guided tours.
Tel.: +33 3 86 33 39 50. Worth noting: The Musical Meetings at Vézelay in August . www.vezelaytourisme.com
Musée Zervos. Publishers and art collectors, Christian and Yvonne Zervos have transformed the former home of writer Romain Rolland, who lived here from 1937 until his death in 1944, in to a museum to display their art collection. The visitor can admire twentieth century works of art by Miro, Calder, Picasso, Léger, etc… Tel.: +33 3 86 32 39 26
Maison Jules Roy. Used for writers in residence nowadays, this former home of Jules Roy was bought by the Yonne Regional Council and turned into a cultural centre. The writer Jules Roy's study and the park are open to visitors. Tel.: +33 3 86 33 35 01

Les caves du Pèlerin. Numerous medieval cellars stacked on the "Eternal Hill" in Vézelay with guided tours of the vines and casks with tastings and discovery of regional appellations. Tel.: +33 3 86 33 30 84
Hôtel-Restaurant la Poste du Lion d'Or. The film team of La Grande Vadrouille were here and helped promote this former post house, the rest has been done by Magali and Grégory Vallet. Their place is charming and welcoming, their fare and their wine cellar known to be one of the best in the area. An ideal spot to stop at to discover Vézelay and its vineyards. Place du Champ du Foire. Tel.: +33 3 86 33 21 23