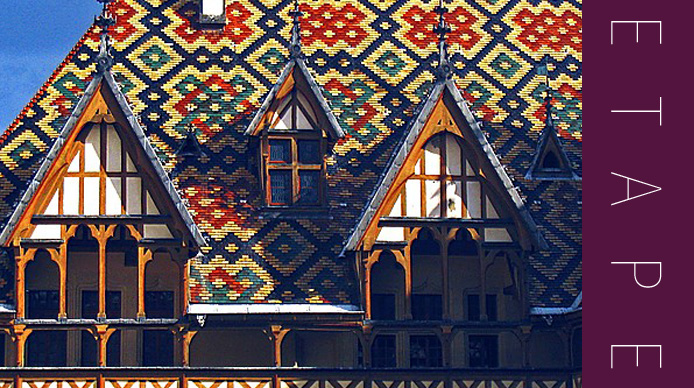 Beaune Hôtel-Dieu. Beaune hospital opened its gates in 1452 thanks to the generosity of Philip the Good's chancellor, Nicolas Rollin and his wife Guignette de Salins. It gave a humanist touch to Beaune, welcoming the sick and misfortunate and rather set the town on its way. The Beaune hospice remains the emblem of the town and of Burgundy wine. An image, which is re-instated yearly, on the third Sunday in November, when the largest wine auction in the world takes place. Charity is upheld through the sale of wine. The main structure houses the Paupers' room, the chapel, refectory and nuns dormitories. The other wings bear the coloured, varnished, tiled roofs in the bourguignon style, which are to be seen on so many châteaux in the region. www.beaune.fr
The Burgundy Wine Musem. Located in the former mansion of the Dukes of Burgundy, the museum explains the history of wine from Antiquity until the nineteenth century. A good introduction to wine and climate knowledge, enhanced by a superb collection of rugs by Jean Lurçat and Michel Tourlière. Tel.: +33 3 80 22 08 19
Maison Bouchard Ainé. In an eighteenth century cellar, a five sense route to discover five good wines. Hôtel du Conseiller du Roy. Tel.: +33 3 80 24 06 66.
The Oenotheque Joseph Drouhin. At the heart of Beaune, the beautiful historical cellars that used to be owned by the Canons of Beaune, the Dukes of Burgundy and the Kings of France cover approximately 1 acre under the city. Different options are proposed to discover their emblematic wines. Visits are on fixed hours upon requests.
Tel.:+ 33 3 80 24 84 05

La Moutarderie Fallot. This establishment is very proud to make its mustard and other condiments according to a traditional method invented in the nineteenth century. An interactive and fun circuit on the making of the various products is available to visitors. 31 rue du Faubourg Bretonnière. Tel.: +33 3 80 26 21 30.
Modern Art Studio, Muriel Konrad Gallery. Pictorial works of Patrick Cambolain, 8 place Monge. Tel.: +33 6 87 09 09 18
Loiseau des Vignes. A word game! This gastronomic restaurant opened in 2007 carries the signature of the great chef Bernard Loiseau. This was the first place to serve wine by the glass with a choice of over 70 wines. The actual chef, Christophe Guérant, who as awarded his Michelin star, holds fort over the ovens and works in accordance with his master. The menu happily combines traditional Burgundy dishes as well as the chef's new creations. The fine wine list enables one to try out rare wines or small vintages. 31 rue Maufoux. Tel.: +33 3 80 24 12 06
Via Mokis. A very modern decorated restaurant and wine bar within a hotel. Organic, fresh and beautiful produce cooked by chef Dzidka Silès who has a tendency to bring back flavours from all his travels. Dzidka creates wonderful dishes by mixing North African spices with local produce, for example, duck breast sprinkled with spices and couscous Tel.: +33 3 80 26 80 80
Le Jardin des Remparts A stone's throw away from the hospice for a welcome rest on the shaded terrace. The interior decoration and Roland Chaniard's cooking are a revelation. A sleek wine bar but also an off the wall Rock bar with unbridled cooking… You should try the mackerel with blackcurrants and pig's trotter with roast turbot. Roland is very talented. 10 rue Hôtel Dieu Tel.: +33 3 80 21 82 16
Chez Laurette. A bar where one eats well and can taste good wines accompanied by tapas. 14, rue du Faubourg Madeleine. Tel.: +33 3 80 21 63 42
Hotel Le Cep The hotel reflects the architectural history of the city through the alliance of buildings constructed between the fourteenth and eighteenth century. Each of the 65 rooms, whose name corresponds to a great wine name of the region, is full of treasures and antique furniture from antique dealers of the area. Among these prestigious rooms, 29 suites are available in the hotel. Some with a chic boudoir-style decor, others with lovely antique wardrobes. The choice is yours! Tel : +33 3 80 22 35 48