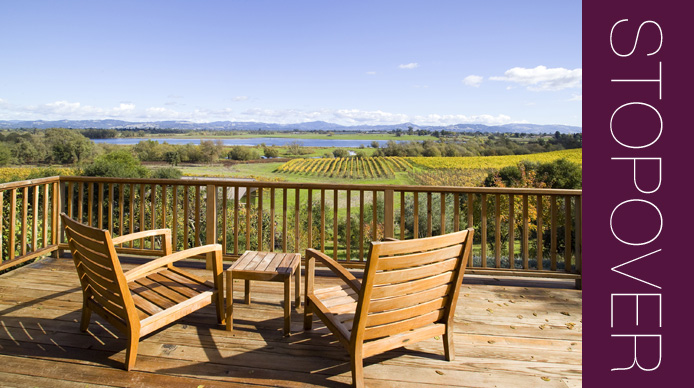 The town of Sebastopol is surrounded by majestic rolling hills and a diverse landscape rich in agricultural heritage. It combines small town charm with international consciousness, and here visitors can explore wine, fine dining, music and art.
Downtown there's a range of unique shops featuring crafts, clothing, books and housewares, and a number of art galleries.
The Sebastopol Center for the Arts has two galleries, a film festival, open studios tours, gardens with sculpture tour, performances and readings. www.sebarts.org
Florence Avenue is a three block stretch just west of Main Street. It's a parade of sculpture, with masterpieces bursting from nearly every other yard. It's home to local artists Patrick Amiot and Brigette Laurent. Amiot's sculptures are made entirely from reclaimed items.
Just west of town are the Laguna de Santa Rosa Wetlands, where visitors can take an easy walk and spot abundant wildlife and migratory birds.
Lynmar Estate. This lavish property was purchased in 1980 by Lynn Fritz, an exquisite 100-acre of rolling vineyards, organic vegetables, beneficial borders and frontage on the Laguna de Santa Rosa. Lynmar winemaker, Shane Finley, personally handcrafts Pinot Noirs and Chardonnays as well as Syrah in smaller quantities. Open daily 10am-4.30pm. 3909 Frei Road. Tel.: +1 707 829 3374. www.lynmarestate.com
Iron Horse Vineyards. This is one of Sonoma County's most prestigious family owned vineyards, best known for its exceptional and award winning sparkling wines. They're so good that they've been served in the White House for the past five consecutive presidential administrations. The Joy! and Russian River Cuvee 2005 sparkling wines were served at a 2011 dinner hosted by the Obamas, for their special guests Queen Elizabeth II and Prince Philip. Iron Horse is still run by several generations of the Sterling family, who still all live on the estate. The fine, sandy Gold Ridge soil type of the area has excellent drainage and mineral balance, producing bright, distinctive Chardonnays and fruity Pinot Noirs, with distinct black raspberry and ripe strawberry tones. The outdoor tasting room is part of the working winery, and open daily, tours by appointment. 9786 Ross Station Road. Tel.: +1 707 887 1507. www.ironhorsevineyards.com
Graton Ridge Cellars. A small fourth generation family winery. Tasting room open daily 10am – 4.30pm, excluding Tuesday. www.gratonridge.com
Dutton Estate Winery. Charming tasting room and winery at the heart of the Russian River Valley. There's a garden and picnic area, and food and wine pairing from the in-house chef. Handcrafted wines from the family's vineyards at Dutton Ranch include Chardonnay, Sauvignon Blanc, Pinot Noir and Syrah. Single vineyard wine selections highlight the unique climate and soil of the location. Open daily 10am – 5pm. www.sebastopolvineyards.com

Wine Emporium. A co-op tasting room offering samples and purchases from small local wine producers. There's also a wine bar and art gallery on site. 125 North Main Street.
Sushi Tozai. East meets West. Serving delicate Japanese cuisine and accompanying Sonoma Valley wines. 7531 Healdsburg Av. Tel.: +1 707 824 9886.
Starlight Wine Bar & Restaurant. Casual yet classy atmosphere in a restored 1949 Streamliner train car. 6761 Sebastopol Ave. Tel.: +1 707 823 1943.
French Garden Restaurant. Delicious French inspired Sonoma regional cuisine is on the menu at this family owned and operated restaurant, with produce from its own 30 acre organic farm. The wine list features some of Northern California's best wines. 8050 Bodega Av. Tel.: +1 707 824 2030.
Sonoma Chocolatiers. Award-winning dark chocolates in familiar and unique flavours, using organic and local ingredients. 6988 McKinley Street.
Screamin' Mimi's Ice Cream. They make their own icecream here, including a range of seasonal flavours. The hot fudge sundae is a popular choice. 6902 Sebastopol Avenue.
Infusions Tea House. Choose from more than 100 loose-leaf organic teas. Golden Lily Oolong is a house favourite. 6988 McKinley St.
Antique Society. Sonoma's largest antique collective. More than 100 dealers in 20,000 sq ft – great fun to browse!