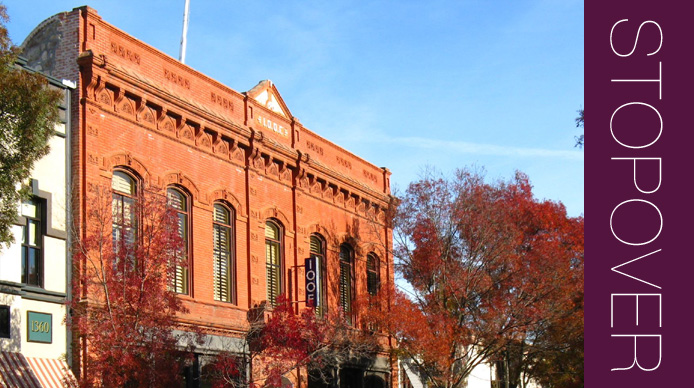 St Helena's central location makes it an ideal base to explore the Napa Valley, and it's full of small town charm. Historic Main Street is tree lined and the 19th century buildings house a selection of art galleries, boutiques and food shops. Multi-generational family businesses still thrive, and most of the vineyards are still family owned.
Cakebread Cellars. It offers a range of hands-on cooking classes at the winery where guests can learn alongside chefs and other food and wine lovers. Classes take place in the winery kitchen or outdoors at a barbecue area with a wood-burning oven. Classes include a tour of the winery, a tasting of Cakebread Cellars wines, cooking class and a three-course lunch paired with wine. Participants also receive a Cakebread Cellars logo apron and a booklet of the recipes and wine notes from the day. 8300 St Helena Highway. Tel.: +1 800 588 0298. www.cakebread.com
Del Dotto Winery. Here you can take a candle-lit tour of the third-oldest cave in The Napa Valley, where wine is carefully barrel aged in the perfect climate and humidity. The privately guided tour teaches guests about the different methods used to create wine, emphasizing how different wood choices and barrel-making techniques impact a wine's final flavor. The highlight of the tour: Barrel Tasting- where wine can be sampled right out of the barrel. 1445 St Helena Highway South. Tel.: +1 707 963 2134.

St Clement Vineyard
. St Clement owns very little vineyard acreage of its own, but has worked to establish long-term relationships with some of the best winegrowers in the Napa Valley. The result is a wonderfully diverse palate of flavours and tannin structures, and wines with great depth and complexity. The female winemaker is Danielle Cyrot. Danielle grew up with a French father and yearly trips to Paris. Her great-grandfather was the last in an long line of ancestors who owned the Cyrot vineyard in the Cote de Beaune. Danielle had no intention of revitalising her family's history of winemaking, but an introductory winemaking class at the University of California at Davis changed everything and she graduated with a degree in Enology and Viticulture. After graduation, Danielle travelled to Alsace and South Australia to hone her skills. She returned to Napa and joined the team at Stags Leap Winery, working her way to the position of assistant winemaker. In 2005, she became winemaker at St Clement. Drawing on her travels to France and Australia, as well as her experience in the Napa Valley, Danielle appreciates the philosophy that wine is created in the vineyard, but she also monitors her cellar carefully. Her wines are elegantly structured with refined tannins and balanced components. Open daily 10am-5pm. 2867 St Helena Highway North. Tel.: +1 866 877 5939
www.stclement.com
The Culinary Institute of America Located at Greystone, the institute offers visitors the opportunity to engage in culinary learning experiences from 30 minute tastings to week-long bootcamps. The CIA Flavor Bar provides short interactive tasting experiences including chocolate tastings, olive oil tastings, or "Taste Like a Chef: Calibrate Your Palate" – to explore the sweet, sour, bitter and salty areas of the palate and learn how chefs balance ingredients and make food flavours "pop" in a dish. Additional classes include topics like: artisan breads at home, food and wine pairing, and seasons in the wine country. 2555 Main Street. www.ciachef.edu
I. Wolk Gallery. Located in St. Helena, the gallery features contemporary paintings, works on paper, photography and sculptures by artists from the great art centers of America, with an emphasis on the Bay Area. Displayed works range from photo-realism to abstraction and feature both emerging and established artists who work in a variety of styles and media. 1354 Main Street. www.iwolkgallery.com
The White Barn is an 1872 Carriage House that was once part of U.S. Civil War General Erasmus Keyes' home and winery estate. Located at the end of Sulphur Springs Avenue in a bucolic vineyard setting, The White Barn was transformed into an intimate 75-seat performing arts venue without loss of its historic charm. The White Barn has nurtured local, San Francisco Bay area, West Coast, and international talents for more than 22 years. All proceeds from White Barn events benefit local and international charitable organizations. Complimentary Napa Valley wines and desserts are served during performance intermissions. 2727 Sulphur Springs Avenu. For performance schedule, go to www.thewhitebarn.org

Cindy's Backstreet Kitchen is an upscale eatery and neighbourhood hang-out created by Cindy Pawlcyn, the award winning cookbook author and co-creator of many renowned Bay Area restaurants. It's a favourite with locals and visitors alike, with a delicious menu using very high quality ingredients, and warm and friendly service. 1327 Railroad Avenue. Tel.: +1 707 963 1200.
St Helena Olive Oil Co. The beautiful shop contains local olive oils, lavender products, honey and other regional produce. You can taste the oil, vinegars and sauces before you buy. www.sholiveoil.com
Market: An American Restaurant lives up to its name, serving traditional American cuisine made from the freshest local ingredients. 1347 Main Street. Tel.: +1 707 963 3799.
The Model Bakery has been baking since the 1920s. It's a great place for a continental breakfast, lunch or snack. 1357 Main Street.
V Sattui. Extensive gardens and a gourmet deli make this the ideal place along the main Napa Valley road to stop for a picnic. Also on offer are wine-tastings of lesser products free of charge – you have to pay for reserve tastings. 1111 White Lane.