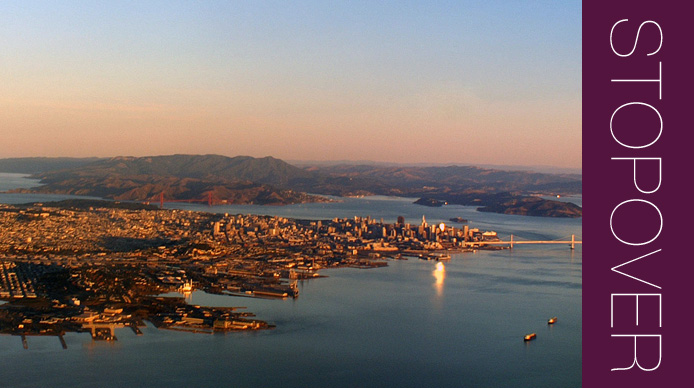 Before the big earthquake of 1906, the largest winemaking region in Northern California was downtown San Francisco. The city is within easy reach of the Napa Valley and Sonoma County, and in itself is an excellent food and wine destination. Many of the restaurants showcase Northern California's fine red, white and sparkling wines on their lists, and San Francisco is home to several of its own wineries and tasting rooms, featuring wine made from Northern Californian grapes.
Tasting Room. Christopher and Kristine Williams own the Wattle Creek Winery, and run vineyards in both Alexander Valley in Sonoma County and Yorkville Highlands in Mendocino County. The varied vineyards results in a diverse wine portfolio, available to try in their San Francisco tasting room located in historic Ghirardelli Square. Open daily. 900 North Point Street. www.wattlecreek.com
Winery Collective . A multi-winery tasting room in San Francisco focused on small wineries across California. You can meet wine makers and sample wine from all over the state. The tasting room offers wine from over two dozen boutique wineries, with almost 100 different wines – a wide variety to suite everyone. Open daily 12-9, no appointment needed. 485 Jefferson Street. www.winerycollective.com
JAQK Cellars. A new wine company from acclaimed Napa Valley winemaker Craig MacLean dedicated to making distinctive wines in playful bottles. Tastings available by appointment only, Mon-Thurs 6pm. Tel.: +1 415 498 1630. www.jaqkcellars.com
Treasure Island Wines. An urban winery dedicated to making and bottling affordable luxury artisan wines just five minutes from downtown San Francisco. The tasting experiences are driven by invention and personalization, wine is made from the finest varietal grapes in California and wines are poured by the winemakers who made them. 995 Ninth Street. Tel.: +1 415 394 9463. www.tiwines.com
The Winery SF. The Winery brings the "California wine experience" to San Francisco. The Winery's 20,000 sq ft winemaking facility allows visitors to see the winemaking process first-hand and experience highly rated boutique wines from a team of top winemakers from Napa, Sonoma, and beyond. Open daily 12-5 Thurs-Sun, Mon-Weds by appointment only. 200 California Avenue. Tel.: +1 415 735 8423 . www.winery-sf.com
The East Bay Area
Today, the East Bay area has nearly two dozen city-based winemakers spread throughout Berkeley, Emeryville, Oakland and Alameda – the back streets have become havens for urban wine enthusiast, who are blending and bottling right in the middle of the city.
Dashe and JC Cellars. Michael and Anne Dashe and Jeff Cohn take up either end of one tasting counter at this shared barrel room in Oakland. Dashe's spicy 2008 Dry Creek Valley Zinfandel is worth a try, as is JC's "Daily Ration" red blend – sold in half-gallon jugs! Open 12-5 Thurs-Sun. 55 Fourth Street, Oakland. www.dashecellars.com
Rock Wall Wine Company. Six wineries sharing a vast naval aeroplane hangar in Alameda. Shauna Rosenblum, formerly of Rosenblum Cellars, launched the company to share space and equipment with Blacksmith Cellars, Carica Wines, Ehrenberg Cellars, John Robert Eppler Wines and R&B Cellars. Open 12-6 Weds-Sun. 2301 Monarch Street, Alameda. www.rockwallwines.com
Cerruti Cellars. The coolest wine space going. Look for a lot of wine, for very little money among the Cerruti labels – including Tractor Shed Red and Honker Blanc. There are also elegant Tudal Family wines from Napa Valley. Saturdays by appointment, Sunday open 12.30-5.30. 100 Webster Street, Oakland. Tel.: +1 510 550 2900. www.cerruticellars.com

Terroir. A wine merchant focusing solely on natural wines. This means organic and dry farming, indigenous yeast fermentation and no use of chemicals. Over 700 different wines, as well as a selection of cheese and charcuterie. Open 12-12 on weekdays, 12-2am on Fri/Sat and 2-9 on Sunday. 1116 Folsom Street.
First Crush Restaurant, Wine Bar & Lounge. First Crush boasts a vast all-Californian wine list, over 20 pages long! As well as having all the famous names, it also includes small, up-and-coming producers. There's a big by-the-glass menu too. Dinner includes delicious dishes such as crispy Monterey Bay calamari and grilled wild King salmon. Tel.: +1 415 982 7874. 101 Cyril Magnin Street.www.firstcrush.com
Epic Roasthouse. Owner Pat Kuleto is also the proprietor of Kuleto Estate Winery in the Napa Valley. The menu at Epic goes beyond the traditional steakhouse, combining traditional with contemporary. Signature dishes include 28-day aged wood oven roasted rib eye steak, and a Chanterelle risotto with crispy pork belly. The dining room features striking columns, deep inset steel framed windows and rich, luxurious fabrics, all topped by views of the Bay Bridge. The grill and oven, along with a spectacular fireplace, serves as the focal point of the restaurant. 369 The Embarcadero. Tel. :+1 415 369 9955. www.epicroasthouse.com
Quince. Run by Michael and Lindsay Tusk in an old brick and timber building built in 1907.The cuisine is primarily Italian influenced but uses ingredients from Northern California. Notable dishes include Sonoma foie gras torchon, and Santa Barbara sea urchin with hot pepper. The wine list contains over 800 selections, including plenty of Californian examples. 1701 Octavia Street. Tel.: +1 415 775 8500. www.quincerestaurant.com
California Wine Merchant. A wine store and wine bar located in the Marina District. They specialise in Californian wine, selling many small production, hard-to-find varieties. The knowledgeable staff can always recommend something to suit your palate.  The wine bar is open every night. 2113 Chestnut Street. www.californiawinemerchant.com
Press Club. Wine bar and lounge, offering fine Californian wines and beers. There's a menu of seasonal small plates, with thoughtful wine pairings. 20 Yerba Buena Lane. Tel.: +1 415 744 2000.
Foreign Cinema . French bistro cuisine with foreign and independent films shown nightly in the outdoor courtyard. The restaurant recently installed a walk-in wine cellar full of 2,500 of wine director Zach Pace's favourite bottles. 2534 Mission Street. Tel.: +1 425 648 7600.
Twenty Five Lusk. Located in the bourgeoning China Basin neighbourhood of San Francisco's SOMA district, Twenty Five Lusk is a modern restaurant and lounge featuring seasonally driven New American cuisine, and a dynamic wine program with 220 entries, including glasses from eight dollars and bottles of wine from $25. 25 Lusk Street. Tel.: +1 415 495 5877.
Fifth Floor. A deep appreciation for French culinary traditions is complemented by a list of 1,500 wines from France and California. Located in the Hotel Palomar, the Fifth Tasting offers a culinary journey through the menu. 12 Fourth Street. Tel.: +415 348 1555.
RN74. An urban wine bar and restaurant by Michael Mina, Rajat Parr and Jason Berthold featuring modern interpretations of refined American and regional French cuisine with an extensive wine list highlighting the Burgundy region of France. 301 Mission Street. Tel.: +1 415 543 7474.
Candybar. Dedicated only to desserts, Chef Cathleen Li changes the menu frequently with a rotation of innovative and luscious sweets, featuring spectacular flavours, textures and presentations. All desserts, ice creams and sorbets are made in-house. Candybar also features an extensive wine list with wines from all over the world to complement your desserts. A menu of creative and fun sparkling cocktails is also available. 1335 Fulton Street.
Mission Cheese. A convivial spot to convene and dig into really good cheese and hand selected wines. The menu features over 30 cheese options including pressed cheese sandwiches, raclette and mac and cheese. Beers and red and white wine are available on tap. The wine list includes suggested pairings for the various cheeses. 736 Valencia Street.
Etcetera Wine Bar. Wines from around the world, tapas, cheeses & speciality flammenkueche await you in a warm atmosphere and original décor. Etcetera offers a unique wine selection sourced regionally and internationally. Some monthly "Flight from around the world" will take you for a tasting throught different regions in the world. Special flights and special events are also featured according to the season and/or new discoveries/additions to Etcetera's cellars. 795 Valencia Street. www.etceterawinebar.com
The Hidden Vine. There are now over 140 wines on the list, with 40 available by the glass. There is also a menu of seasonal small plates made with local ingredients, and also an outdoor bocce ball court, alongside comfy chairs,  leather couches and a fireplace. 408 Merchant Street.  http://www.thehiddenvine.com/
B Restaurant & Bar. A contemporary bar and restaurant that sits atop Yerba Buena Gardens and opens its doors to an outdoor terrace overlooking the gardens and waterfalls at Yerba Buena with panoramic views of the San Francisco skyline. This is the perfect locale to escape the city for a lunch, dinner, brunch and most importantly, happy hour. B is known for its seasonal cocktails, local ingredient based menu and raw bar. The B Restaurant & Bar wine and beer list focuses on California-based, small production wineries and breweries. 720 Howard Street. Tel.: + 415 495 9800. www.bsanfrancisco.com
Jasper's Corner Tap & Kitchen. Master Sommelier Emily Wines designed the wine program, featuring 29 wines available by the taste, glass, carafe, or bottle, and 6 wines are offered on tap. 401 Taylor Street. Tel.: +1 415 775 7979.