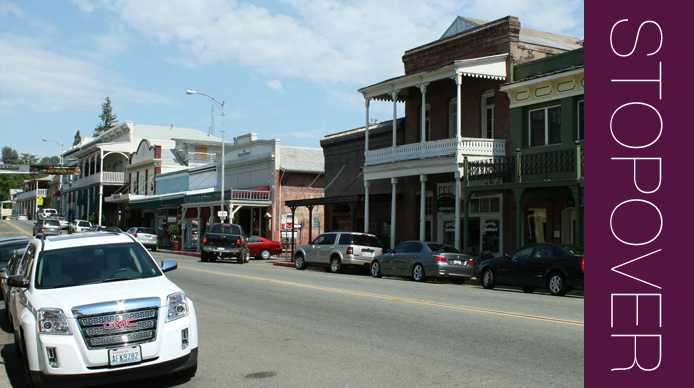 Sutter Creek retains its Gold Rush facade, whilst still catering to the needs of visitors from around the world. The atmosphere is quaint and historic, and there are plenty of places to shop, eat and taste wine, and the town is easy to walk around. It's a great hub from which to explore the nearby Shenandoah Valley wine region.
Sierra Ridge Vineyard & Winery. Owner John L Bree and son John H Bree are a fourth generation wine family, and established Sierra Ridge Vineyards in 1995. On the 170 acres they grown Italian varietals including Sangiovese, Nebbiolo, Aglianco and Fresia, as well as Cabernet Franc, Cabernet Sauvignon and Merlot. They also grow a number of unusual varieties, such as Beclan from Germany, Vranc from Yugoslavia, and Pinotage from South Africa. Open for tastings Friday-Monday 11-5. 14110 Ridge Road. www.sierraridgewine.com
Avio Vineyards & Winery. Located just five minutes from downtown Sutter Creek, this estate winery is reminiscent of a traditional Tuscan farmstead, and specialises in smooth Italian-style varietals. The winery was established in 2003 by Stefano and Lisa Watson, and is named for the town of Avio in Northern Italy where Lisa's family has lived and produced wine for generations. Open Fri-Sun 11-5, and by appointment. 14520 Ridge Road. www.aviowine.com
Sutter Creek Wine Tasting. Sutter Creek Wine Tasting. This friendly tasting room is located on Main Street, and the knowledgeable staff are on hand to lead through the complimentary tasting. The tasting room offers wines from three local family wineries, each making small lot, hand crafted, award winning wines featuring estate grown or locally grown grapes. There are red, white, sparkling and dessert wines on offer. One of the wineries is Sierra Ridge, mentioned above. Another is Gold Hill Winery, specialising in Chardonnay, Cabernet Sauvignon, Cabernet Franc, Merlot, Barbera and Syrah. The third is Le Mulet Rouge Vineyard & Winery, located in Fiddletown, Amador County, producing Syrah, Cabernet Sauvignon, Sauvignon Blanc and Viognier, aged in French, Hungarian and American oak barrels. There's also a variety of wine-related gifts and art on sale. Open daily 11-6. 85 Main Street. www.suttercreekwinetasting.com
Cinque. Family owned and operated wine tasting room in the north end of Sutter Creek, wines produced by 5th generation Scotto Family. There are also wines from Sera Fina Cellars owned by Paul Scotto, and wines from Paul's brother Anthony and sister Natalie. The Scotto family has been making wine in Italy since the mid 1800's. There's also an array of locally produced olive oils and vinegars for sale. Open Thurs-Mon 11-5. 83 Main Street www.cinquewines.com

Susan's Place Wine Bar & Eatery. Fresh Mediterranean cuisine served indoors or outside under vines on the romantic garden patio. From soup and freshly prepared salsas, to cheese plates and tempting main courses, all from Susan's own tried-and-true recipes. There's also wine tasting and sales of Sierra Foothill wines in the tasting room. Open Thurs-Sun. 15 Eureka Street. Tel.: +1 209 267 0945. www.susansplace.com
Sutter Creek Cheese Shoppe. A wide selection of imported and domestic artisanal cheeses, as well as other speciality products. All cheeses are cut and packaged to order, and can be tasted in the store. 33B Main Street.
Sutter Creek Ice Cream Emporium. Old-fashioned emporium serving ice cream concoctions, candy, fresh fudge and gifts. Sometimes, upon request, the owner will play a ragtime tune on the 1919 Milton piano in the store. 51 Main Street.
Twisted Fork Restaurant. Lunch may include hamburgers, soups, salads and wraps, whilst dinner brings Grilled rack of lamb, Tuscan chicken and a hearty Italian Pot Roast. The restaurant is situated in the historic American Exchange Hotel. Open Tues-Sun. 53 Main Street. Tel.: +1 209 267 5211
Chaos Glass Works. Professional artist David Hopman produces stunning hand-blown vases and dinnerware, displayed on two floors of an 1870s brewery building. Open Wed-Sun, glass-blowing demonstrations on Saturday and Sunday. 121A Hanford Street.
Fine Eye Gallery. A gallery showcasing contemporary American crafts, extraordinary furniture, jewellery and accessories. Art objects are showcased in glass, acrylic, watercolour, wood, canvas and leather. Open daily 10.30-5.30. 71 Main Street.
Gallery 10. Original works of fine art by a diverse group of local artists, as well as three dimensional pieces in bronze, ceramic, glass and sculpted aluminium. Open Thurs-Mon 11-5. 15 Eureka Street.