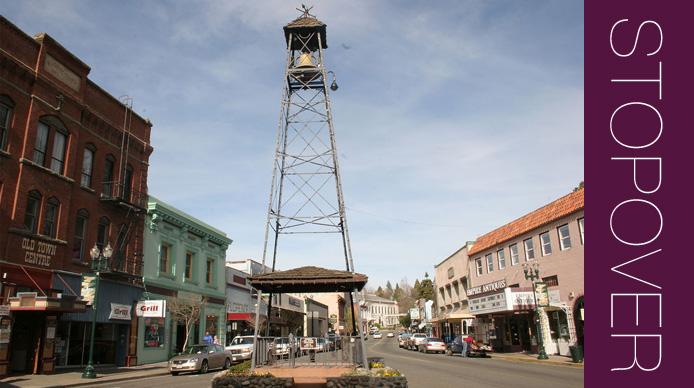 A charming Gold Rush town, named after the placer gold deposits found in its rivers and hills in the late 1840s. Placerville's heritage is reflected in the historical, nineteenth century architecture of its downtown district. Wineries, ranches, Coloma, the American River and El Dorado National Forest are all located within minutes of downtown Placerville.
Established in 1854, Placerville's historic Main Street has a variety of shops including art galleries, gift shops, antiques, clothing and jewellery. The Bell Tower stands in the centre of town, as it has done for more than 100 years. In the past it was used to warn of fire and call the volunteers, and today many events surround the tower and it has become a well known gathering place.
Gold Country Artists Gallery. Local award winning artists display and sell their art at this gallery. There are oils, pastels, watercolours, photography, raku, pottery, wood turnings, glass creations, sculptures and many forms of jewellery. 379 Main Street. www.goldcountryartistsgallery.com
Fountain & Tallman Museum. Owned and operated by the El Dorado Historical Society. Built in 1852, it is the oldest building on Main Street and listed on the National Register of Historic Places. The building was the site of John Fountain and Benjamin Tallman's Soda Works. The rock rubble construction is a good example of the first permanent buildings that transitioned Placerville from a mining camp into a town. Exhibitions include geology, Gold Rush and sections on the various people who have lived in the area including Native Americans. 524 Main Street.
Gold Bug Mine & Park. Over 300 feet in length, the hard rock Gold Bug Mine is open to the public for tours. Guides describe the workings of the original stamp mill, and how life was in the mines in its early years of operation. There's also a gift shop, museum, hiking trails, picnic tables and lots to see throughout the 61 acre park. 2635 Gold Bug Lane. www.goldbugpark.org
Out to Coloma
Coloma is famous for being the site where gold was first discovered in Calfornia by James W Marshall in 1848, leading to the Gold Rush. Today, Coloma is a tourist attraction, known for its ghost town. You can visit Marshall's cabin, the museum and gift shop, Sutter's Mill, two historic churches, a schoolhouse, blacksmith shop, cemetery and the Noteware-Thomas House. You can also have a go at gold panning at the South Fork of the American River near Coloma, where you can rent a pan and try your luck.
David Girard Vineyards. Nestled in the foothills near the south fork of the American River. At 1,200 feet, this  area is ideal for growing the premier grape varietals of the Rhône valley. The 85 acre estate of rolling hills provides unique microclimates within the vineyards. Focusing on Syrah, Grenache, Roussanne and Viognier, female winemaker Mari Wells Coyle has previously worked in New Zealand and Sonoma, before being drawn to the Sierra Foothills. She's passionate about pairing wine and food flavours, and teaches classes during the winter. The wines have an intensity and balance that comes from grapes at this elevation with these soils. The grand, Tuscan-style villa houses the tasting room, a lovely place to enjoy the wine and the sweeping views. Open daily. 741 Cold Springs Road. www.davidgirardvineyards.com

Cafe Luna. Cafe Luna is a restaurant in the heart of downtown Placerville specializing in monthly changing menus featuring different meats, seafoods, pastas and vegetarian items along with our famous "Hot-Head" specials, for the spicy minded. Soups are all house-made with emphasis on local and seasonal items. More than 150 wines to choose from featuring many local El Dorado County wines. Over twenty wines by the glass and the dinner menu offers wine suggestions per course. 451 Main Street, #8. Tel.: +1 530 642 8669.
Heyday Cafe. Fresh California cuisine with French and Italian influences. Dishes include potato tostada to start and Double R Ranch flat iron steak with bacon molasses butter. Cosy setting in Gold Rush era building on the historic Main Street. Over 40 wines by the glass. 325 Main Street. Tel.: +1 530 626 9700.www.heydaycafe.com
Sequoia. American and European cuisine, local and seasonal ingredients paired with wines of the Sierra Foothills. Dishes include chicken saltimbocca, and crab stuffed garlic prawns. 643 Bee Street. Tel.: +1 530 622 5222. www.sequoiaplacerville.com
Dedrick's Cheese. Gourmet food store offering artisan cheeses, olives, crackers, breads, desserts and more. 312 Main Street.
Wine Smith. A selection of over 200 different varieties of wine, with the majority from the wineries located in the Sierra Foothills. Wine sold by the glass, and tastings available. 346 Main Street. www.thewinesmith.com
Winterhill Olive Oil. Local artisanal producer of certified 100% extra-virgin olive oils and flavoured oils. Also balsamic vinegars, local honey, jams and chocolates. Tasting bar for sampling. 321 Main Street.
Blue Skies Clothing. Fashions and accessories by local artisans. Unique jewellery, scarves and hats. 466 Main Street.
Cascada Restaurant. A fusion of old world architecture and comfortable urban chic. Serving an eclectic mix of Mexican favourites and Californian cuisine with a Latin flare! Dishes include Camarones Don Felipe and salmon stuffed with crab and spinach.  Extensive wine list features Sierra Vista Chardonnay, Lava Cap Chardonnay, Boeger Barbera and wines from many of the local wineries. 384 Main Street. Tel.: +1 530 344 7757. www.cascadaonmainstreet.com