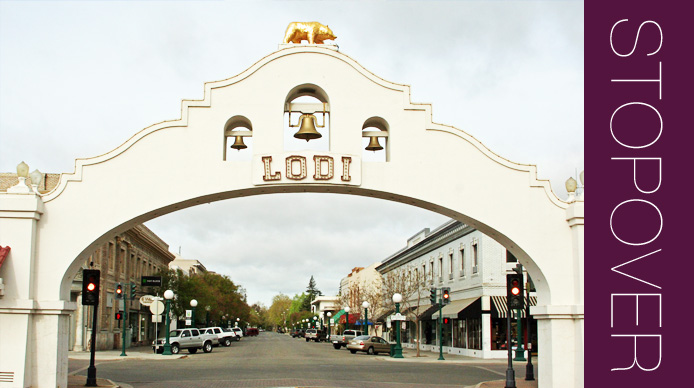 100 miles east of San Francisco, the Lodi region has been growing grapes since the 1850s and is famous for its old-vine Zinfandels.  Many of the wineries are concentrated within an area 3 miles northwest of town. There are some major wineries in the area, such as Robert Mondavi Woodbridge, Bear Creek Winery and Oak Ridge Vineyards, but there are also dozens of small boutique wineries which offer a more intimate experience – and the person pouring the wine is most likely also the winemaker. With 80 wineries there is plenty of variety, and visitors will encounter wineries large and small, brand new and decades old.
Lodi Wine & Visitor Center. The best place to start in Lodi. There's an expansive tasting bar featuring 200 of the Lodi region's offerings, including small-batch vintners without tasting rooms of their own. There are also exhibits on grape growing and winemaking, and a gift shop featuring handcrafted products.
St Jorge Winery. Inspired by trips to Europe, Vern and Jenise Vierra have built a unique winery with with Mediterranean-influenced architecture. Vern's grandfather Joe Azevedo was born on the island of St Jorge in the Portuguese Azores, and as a tribute they named the winery after a place Joe was proud to be from.  In the tasting room, wines are paired with food to showcase the flavours.  St Jorge Winery produces mostly Portuguese varietals such as Verdelho, which goes nicely with Portuguese Topo cheese, Tempranillo, which pairs well with Portuguese sweet bread, and others include Torrontes, Tinto Cao, Touriga National, Souzao and Alveralho. There are also Lodi favourites, such as Zinfandel and Alicante Bouschet. Tasting room open Friday-Sunday 11-5. 22769 North Bender Road. www.stjorgewinery.com
Van Ruiten Family Winery. For 50 years, the grapes grown in the Van Ruiten vineyards were shipped to other wineries every year, but in 1999 the family decided to go into winemaking. Today, three generations of the Van Ruiten family work together tending the vineyards, managing the state-of-the-art winery and bringing the finest wines to market. The Cabernet Sauvignon/Shiraz blend remains one of the most popular, along with a famous Old Vine Zinfandel and an exceptional Chardonnay. The 2008 Sideways Reserve Zinfandel is very good. There's also a late harvest Zinfandel, which is port like with sweet notes whilst remaining quite dry. Tasting room open daily 11-5. 340 W. Highway 12. www.vrwinery.com
Jeremy Wine Company. A boutique winery tasting room located in the heart of downtown Lodi, owned by Jeremy and Choral Trettevik. The emphasis is on small productions of eclectic and interesting varietals including Tempranillo, Albarino and Zinfandel – only 450 cases are produced per year, and tend to sell out in just months. The Tempranillo is Californian rather than Spanish in style, and is more viscous – it's very good.  It's a great place to visit before or after lunch or dinner downtown and the tasting room is stylish and delightful – the bar itself dates from the mid 1800's, when it was located in a small saloon in Wyoming. Jeremy and Choral also run a design company that produces labels and collateral for wineries – including many of the local Lodi brands. Tasting Wed-Sun 1-5. 6 West Pine St. www.jeremywineco.com

Mettler Family Vineyards
. Specialising in Cabernet Sauvignon, Petite Sirah and Old Vine Zinfandel, this six generation family have been farming in Lodi since 1899. Today, the vineyards are run by Larry Mettler and his wife Char, along with their three children, Kimberly, Kelli and Adam. Everyone contributes to the family operation, from farming to marketing. In 2010, Mettler Vineyards were officially certified organic – the Mettlers have always been committed to farming in the most natural way possible aspects – cover crops are grown in the vineyards to protect and improve soil structure, owl boxes have been built to create homes for owls and promote natural rodent control. The vineyards are also farmed using the latest biologically integrated farming system, reducing chemical usage and placing pest traps in vineyards. Reduction of water and fertilizers in the vineyards along with integrated pest management keep the vineyards healthy and the wine quality consistent. The Mettler Cabernet Sauvignon is a delicious example from the winery, it's smooth on the palate and has a beautiful balance of fruit and oak. Whilst not currently open to visitors, there will be a tasting room opening in Spring 2012.
www.mettlerwine.com

Berghold Estate Winery
. The Berghold Family has been growing grapes in Lodi since 1986. Today, the estate includes 85 acres of Syrah, Viognier, Cabernet Sauvignon, Merlot and Zinfandel. Joe and Kay Berghold are collectors at heart. They have an extensive collection of American Victorian antiques, built up over several decades, and with this they have built an architecturally unique winery and tasting room to house the collection. Their son Miles is the winemaker, and all Berghold wines are estate vintages, terroir driven and made using artisan techniques combined with state of the art technology. The Berghold winery produces only 5000 cases of barrel aged wines annually. The full-bodied Crank Case red blend is superb and the perfect accompaniment to a serious meal, perhaps roast beef or Christmas dinner. The Viognier is also excellent. The main entrance to the winery features a pair of ten foot carved cherry doors originally from a Victorian mansion in Philidelphia. More than sixty solid wooden cabriole corbels, actually the legs of antique Victorian grand pianos, accent the building's roofline. Inside, the winery is filled with one of the largest collections of fine American Victorian antiques in the US. There's the 26 foot mahogany Eastlake bar in the Tasting Room, a 26 foot Louise XIV Oak bar in the barrel room, and a 13 foot gilded tower clock alongside beautiful armoires, tables and chests. At the centre of the Tasting Room sits a 1918 Charles Stieff concert grand piano, beneath a chandelier from 1890 from the Paramount Theatre in New York. Other fine art includes a Currean marble statue of a nude against a sail from the Paris World Fair in 1885, a collection of Italian Victorian marble busts and a Tiffany stained glass window. Open Thur-Sun 11-5. 17343 N Cherry Road.
www.bergholdvineyards.com
Cellardoor A wine tasting bar room in downtown Lodi featuring wines Michael David, Van Ruiten and Jessie's Grove wineries, and more recently Bokisch Vineyards too.  Samples of these wines are served in flights, or can be ordered by the glass or bottle. To accompany the wines, gourmet appetisers include cheeses, salami, hummus, tapenade and a selection of desserts. On Friday evenings there is live music, and local artwork is featured at CELLARDOOR on a rotating basis. Open Tues-Sun. 21 N. School St.
Lodi Lake Park. A man made lake fed by the Mokelumne River, surrounded by beautiful oak forest. It's an ideal spot to picnic or walk along nature trails. In the summer, the beach is open and boats and kayaks available for rent.  1101 W. Turner Road

Cheese Central. A must-visit between wineries! Run by Cindy and John, this cheesemonger has over 100 varieties of cheese from around the US and the rest of the world. You can taste before you buy, and they also run various classes from cheese and wine pairing to cookery. The pantry is stocked with local olive oils, chutneys, preserves, honeys and more. 11 N School St.
Crush Kitchen + Bar. Serving innovative dishes, including a variety of tasty salads and delicious main courses. The specially created bar snack is a popcorn with a difference – coated in nutritional yeast, cayenne pepper and black truffle. It's unusual, but delicious! They also serve a superb creamy edamame hummus, and for dessert a mouth-watering carrot cake with marscapone and ricotta icing. The restaurant's adjoining market is a great place to pick up speciality treats such as cured meats, artisan cheeses and local honeycomb. 115 South School St Suite 13. Tel.: +1 209 369 5400. www.crushkitchen.com
Rosewood Grill. Classic American cuisine served in a casual, modern atmosphere. The menu is seasonal and uses the freshest ingredients. Of course there is a great selection of local wine too. Dishes may include starters of a hearty Lobster Mac & Cheese with truffle oil, or the unique 'Scoozi', with Point Reyes blue cheese filling. Main courses include a superb seared rare Tombo Tuna with toasted sesame sauce, or Macadamia Halibut with spinach and smoked bacon cous cous. 28 S. School Street. Tel.: +1 209 369 0470
The Spa at Wine & Roses. A tranquil environment in which to enjoy the soothing touch of spa professionals. As well as massages and facials there are a number of unique treatments, including the Wine & Roses Ultimate Treatment, which involves a grape seed body scrub, massage and wrap. Body wraps use seasonal organic ingredients and are customized to the needs of different skin types. Open daily. Tel.: +1 209 371 6165. www.winerose.com