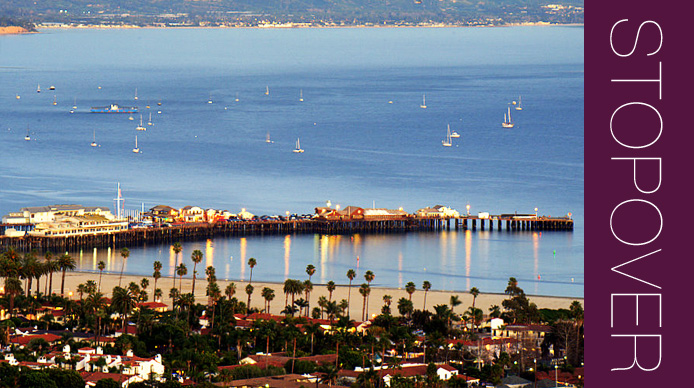 Known as "The American Riviera" Santa Barbara is blessed with a backdrop of dramatic mountains, sparkling seas, white-washed buildings and abundant sunshine. The city is well-known for its cuisine, boutique wineries, beaches, surf culture, outdoor pursuits, art galleries and festivals. The Downtown Historic Arts District and the Waterfront District are popular places for visitors, and State Street is the heart of downtown, lined with shops, cafes, museums, galleries and theatres.
Old Mission Santa Barbara. One of the city's chief landmarks, the Mission was founded in 1786 and is still active as the home of Franciscan friars. 2201 Laguna Street. www.santabarbaramission.org
Santa Barbara Zoo. The 'Zoo-with-a-View' is set on 30 acres, including exhibits of endangered California natives such as the Californian Condor, Channel Island foxes, bald eagles, California desert tortoises and more. 500 Ninos Drive. www.sbzoo.org
Wine Cask. A superb food and wine experience, situated in a light, airy tasting room. The spotlight is on local vineyards, such as wines from Wine Cask partner Doug Margerum's winery, Margerum Wine Company. He primarily produces M5, a Rhone styled red blend, single vineyard Syrah, Sauvignon Blanc and Pinot Gris. Stay for dinner in the elegant Gold Room where dishes include buffalo tartare and seared diver scallops, or by the fire in the cosy bar/cafe. Wine tasting 12-6 daily, lunch and dinner in the restaurants. 813 Anacapa St www.winecask.com
Conway Deep Sea Tasting Room. Operated by Conway Family Wines, producer of Deep Sea and Rancho Arroyo Grande wines, the tasting room is perched above the Pacific Ocean in a light-filled space that includes an outdoor deck with 360-degree views of the coastline, harbour and Channel Islands. Open daily 11-7. 217 Stearns Wharf.
Santa Barbara Urban Wine Trail. A number of wine producers have based their tasting rooms in the town, walking distance from each other, ideal for those who don't want to drive around wine country. www.urbanwinetrailsb.com
They include:
Carr Vineyards & Winery.  Set in a 1940s corrugated iron Quonset Hut, Carr winery has an atmospheric tasting room, where visitors can enjoy the ambiance of a working winery whilst sipping wines at the barrel top bar. Carr specialises in Pinot Noir, Syrah, Cabernet Franc and Pinot Gris. Open daily 11-6. 414 N. Salsipuedes Street
Jaffurs Wine Cellars. Jaffurs has been producing highly acclaimed Rhone varietals since 1994, including Syrah, Grenache, Viognier, Petite Syrah and Roussanne. Open Fri-Mon 11-5. 819 E. Montecito Street. www.jaffurswine.com
Whitcraft Winery. Established in 1985, Whitcraft is dedicated to non-interventionist winemaking. Winemaker Chris Whitcraft has been in the industry for 30 years, first as a retailer, then a journalist, and then moved on to making his own wines. He concentrates on producing top quality wines, focussing on the fussy Pinot Noir, as well as Chardonnay and Syrah. Open Fri-Mon 12-4. 36 A South Calle Cesar Chavez. www.whitcraftwinery.com
Oreana Winery. Located in a former tyre shop, the space now houses a fully functioning winery, tasting room and art gallery, just two blocks from the beach. Pinot Noir is the speciality, alongside rare Italian varietals and refreshing whites. Open daily 11-5. 205 Anacapa Street. www.oreanawinery.com
Santa Barbara Winery. The oldest winery in Santa Barbara County, established in 1962. It produces mainly Pinot Noir, Chardonnay, Syrah and Sauvignon Blanc. There's a lovely patio in front of the tasting room. Open daily 10-5. 202 Anacapa Street. www.sbwinery.com
Municipal Winemakers. Winemaker Dave Potter concentrates on making wines with freshness, elegance and balance. There's an excellent line-up of reasonably priced, delicious wines including a crisp, fresh, minerally dry Riesling, spicy Grenache/Cinsault/Syrah blend and a rich concentrated blend of Cabernet and Syrah. Open daily. 22 Anacapa Street. www.municipalwinemakers.com

Bouchon Santa Barbara. An authentic wine country experience in the heart of the city. Bouchon uses the freshest, highest quality local ingredients and the menu captures the essence of California's Central Coast. The entrees pair well with local wines, and the extensive wine list includes 40 local varieties by the glass. The signature dish is a bourbon and maple-glazed California duck breast, with thyme-infused jus, and corn, fava bean, bacon and butternut squash succotash. 9 W. Victoria Street. Tel.: +1 805 730 1160. www.bouchonsantabarbara.com
Louie's California Bistro. Where in-the-know locals go for comfort food and a friendly atmosphere. Specialities include grilled pork chops with sundried cherry sauce, and seafood cioppino with saffron rice. The extensive wine list features mostly Santa Barbara and Central Coast varietals. 1404 De La Vina Street. Tel.: +1 805 963 7003.  www.louiessb.com
Olio e Limone Ristorante. Opened in 1999 by husband and wife duo Alberto and Elaine Morello, this is a bit of Italia in Santa Barbara. Inspired by a childhood in Sicily, Chef Alberto prepares authentic Italian dishes from all over Italy, using the highest quality ingredients. Dishes include fresh roasted artichoke heart salad, followed by Risotto al Nero di Seppia (a creamy blend of shrimp, scallops and calamari with squid ink). 11 W. Victoria Street  Tel.: +1 805 899 2699
Renaud's Patisserie & Bistro. The best croissants this side of the Atlantic, handmade the traditional French way, they come in various flavours including chocolate and apricot. 1324 State Street.
The Grapeseed Company. Products in this eco-friendly skincare line are made from winemakers' recycled grape seeds, which rejuvenate skin and fight the signs of aging. Try the rose and grape serum or a bar of organic wine soap, handmade with pure botanical extracts and California wine. 201 W. Carillo St.
Imagine. A wonderful collection of artful things, from clothing to furnishings, with an emphasis on contemporary crafts and design. 11 West Canon Perdido Street.
Santa Barbara Arts. Featuring beautiful crafts by fifty local artists, including handmade jewellery, hand dyed silks, ceramics, sculptures, paintings, photography, greeting cards and more. 1114 State Street.