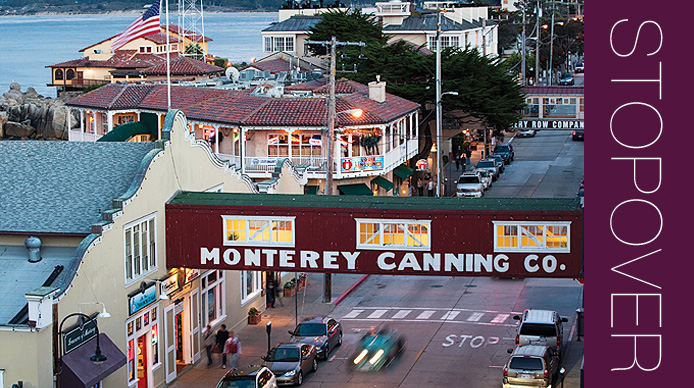 Monterey is one of the most historic cities in California. Original adobes are found on many street corners. Some are open for tours while others house contemporary businesses.
Cannery Row. Once the site of a growing sardine-canning industry, where John Steinbeck drew inspiration for his novel about life in Monterey, fell on hard times after World War II, mainly due to overfishing. Today the sea surrounding Monterey is protected as a national marine sanctuary, and is filled with sealife. Cannery Row has reinvented itself as a lively destination, whilst retaining its historic roots. Old cannery buildings now house restaurants, galleries and shops.
Fisherman's Wharf. It is a good place to spot seals, sea lions, sea otters and brown pelicans. It's possible to hire bicycles and pedal along the Coastal Trail to scan Monterey Bay for wildlife, and enjoy the sea air.
Monterey Bay Aquarium. A wonder of jellyfish, seahorses, penguins, sharks, sea otters and many other creatures. 886 Cannery Row. www.montereybayaquarium.org
Coastal Recreation Trail. Walk along the coast, spot seals and maybe sea otters or dolphins. The trail passes colossal sand dunes before winding up in the heart of Cannery Row.
Monterey Tasting Rooms. Wineries from all over Monterey County have tasting rooms conveniently located on Cannery Row and in downtown Monterey. They're accessible via Cannery Row and the Recreation Trail.
Baywood Cellars. A diverse range of wine, using grapes grown in Monterey and elsewhere in California. Tasting room open Mon-Sat 1-5.30, Sun 1-5. 381 Cannery Row.
Pierce Ranch Vineyards. The only winery in Monterey County focusing largely on Spanish and Portuguese style wines including Albarino, Tempranillo and Touriga. Tasting room open Sun, Mon, Thurs 12-6.30, Fri-Sat 12-8. 499 Wave Street. www.piercevineyards.com
A Taste of Monterey.  A wide variety of Monterey wines, as well as local gourmet food, and a great view of Monterey Bay. Open Mon-Thurs 11-5, Fri-Sat 11-6, Sun 11-4. 700 Cannery Row. www.atasteofmonterey.com
Wine from the Heart. Boutique wines from Monterey County and other areas of California, and also create private label wines. 241 Alvardo St, Portola Plaza. Open daily 10-6.
Scheid Vineyards Wine Lounge. For over 35 years Schied Vineyards has grown premium Monterey County wine grapes. Alfred G Scheid, along with son and daughter Scott and Heidi, own ten estate vineyards in four distinct regions span an array of soils, microclimates, appellations, so you can choose the finest blocks for wines. Bright, tropical, fruit forward Chardonnay, velvety Pinot Noir and full-bodied Petite Sirah. Open daily. 51 Cannery Row. www.scheidvineyards.com

Domenico's. Traditional Italian cuisine on Fisherman's Wharf, where diners can watch seals trying to steal dinner from fishermen. The fresh seafood is caught each morning and delivered to Domenico's private loading docks. Fresh tomatoes come direct from Dominic's own farm. 50 Fishermans Wharf. Tel.: +1 831 372 3655. www.domenicosmonterey.com
The Sardine Factory. A favourite dining destination since 1968, don't miss the calamari puffs and legendary abalone bisque (served by request at President Ronald Reagan's inaugural dinners!). 701 Wave Street. Tel.: +1 831 373 3775. www.sardinefactory.com
Montrio Bistro. Nearly two-thirds of the world's artichokes are grown in Monterey County, and local chefs find dozens of ways to prepare it. Tony Baker infuses baby artichoke hearts into ravioli served with bacon and peas in a creamy Italian parsley sauce. the bistro holds numerous national, regional and local awards and uses locally sourced ingredients and sustainably caught seafood in the European inspired American menu. 414 Calle Principal. Tel.: +1 831 648 8880. www.montrio.com